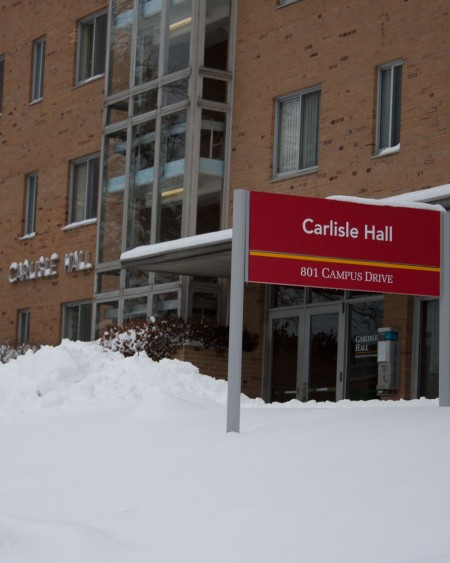 It is the end of an era as the destruction of Carlisle Hall marks another step toward Ferris State's Big Rapids Campus Master Plan.
Located on north campus, the 55-year-old Carlisle Hall will be closed after spring 2011. This gives the current residents time to choose which Honors hall they will live in next school year. Student options are Helen-Ferris, Puterbaugh, Henderson or Ward, the newly refurbished Honors residence hall.
"As Ferris moves forward, there is a shift in the use of buildings if they are not relevant for what the future holds," said Jon Shaffer, director of Housing and Residential Life.
Shaffer said there is no absolute reason why the hall has to come down, but says it is a part of the master plan. The campus master plan focuses on the overall goals of expansion and renovation of the university.
According to Shaffer, feedback from students has been an overall positive response. Ward will re-open with larger rooms, new furniture, carpet, colored walls and window treatments. Shaffer said students are excited to live in the new Ward Hall and to be closer to the Rock Café.
"I haven't been in Ward yet, but I like the location. It benefits me because the Rock Café and my science classes are closer," said Trevin Bernat, a current residential assistant and first year resident of Carlisle.
Carlisle currently holds more than 130 Honors students living in private suites or rooms with suite mates. Students who move to Ward will be surrounded by a "clean, refreshed look" with bigger rooms, said Shaffer. Other students are simply moving off campus next fall and will not be affected by the change.
"It is exciting to see our campus evolve to meet the needs of tomorrow's students as well as students in decades to come," said Shaffer.
Still, some Ferris students are not as excited about moving to a new location, but are willing to accept the change.
"I was pretty upset at first. Carlisle is really close to Westview, the library and all my classes," said Steffie Edington, a pre-pharmacy student. "Now, I'm OK with it. The campus is changing, and I can't change that, so I'll just have to go with it."
Ferris graphic design student and first year resident of Carlisle, Kari Dixon said she enjoyed the location of Carlisle.
"I was disappointed. I like the rooms in Carlisle and the convenience of Carlisle's location," said Dixon.
Dixon continued saying she was not sure how the move would affect her ability to see her "established friends in Carlisle."
Shaffer said the move will not "put anyone out," it will only change students' living options.
"These wonderful additions to our campus demonstrate that minor inconveniences, such as closing buildings, pave the way to bigger and more exciting ways in which Ferris State University truly helps students imagine more," Shaffer said.
Carlisle will be torn down in the near future, but Ferris officials are unsure as to what will take its place.
Shaffer commented that the possibility of adding more parking for Ferris students is still in discussion. n