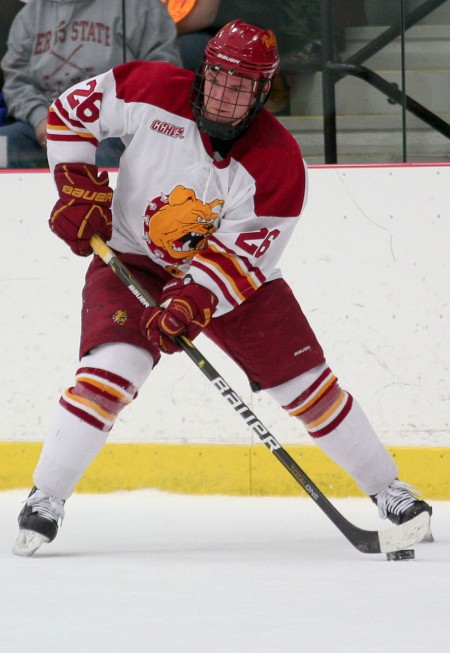 From not scoring a single shorthanded goal his first three years at Ferris to scoring five in his senior season, left wing Mike Embach now leads the nation in shorthanded goals.
Embach, a marketing major with a concentration on sports and a native of Orland Park, Ill., can attribute his current success on the Bulldogs' penalty-killing unit to being given a larger role in shorthanded situations. Embach said he never really penalty killed until late in his junior season.
"I just think he really works hard," said Ferris head coach Bob Daniels. "Him and Matt Kerzinger, they've got a chemistry about them, they've killed all year pretty much together but what I really enjoy is that they start with defense first and then go from there."
Chicago Blackhawk games with his parents formed Embach into the player he is today. Embach started skating when he was four, then immediately chased the puck when he was five. He started skating in his mothers' hometown of Alsip, Ill. at the ice arena down the street from his grandparents' house. Watching and following the Blackhawks quickly got Embach addicted to the sport.
"My parents got me hooked on hockey when I was young while attending Chicago Blackhawks games," said Embach. "I met Jocelyn Lemieux, the lesser known brother of Claude Lemieux, at Cheli's Chili before one game I went to and he signed my jersey so he became my favorite player, and is the reason I wear number 26 to this day."
In return for taking him to Blackhawk games as a child, Embach is repaying his parents by being in close enough distance for them and family to watch his home games at Ferris. When Embach was young his parents kept him busy by setting him up to play hockey year round.
"In the spring I would play for sometimes three or four different teams and I was on the ice probably four to five times a week," said Embach. "In the summers my parents always enrolled me in hockey camps which really helped develop skills."
Embach plans to use his marketing degree as a stepping-stone to become either a lawyer or a sports agent. But first he would like to continue playing the sport that brought him to Ferris State.
"I am definitely going to try to continue my hockey career," said Embach. "With two regular season games left and playoffs, the next month or two is going to be very fun and intense and should determine where many of the seniors play next year." n