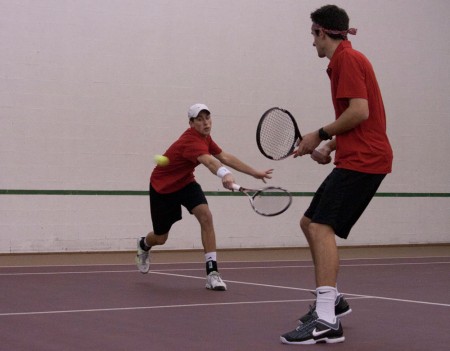 The Ferris State University men's tennis team opened their 2011 season with a 5-4 victory at home Saturday against Aquinas College.
FSU captured two of the three doubles flights for the lead before entering singles play. AC battled back as they split the three singles matches to even the score.
Securing wins for the Bulldogs were senior Steven Roberts, junior Jack Swan, junior Justin Hermes, sophomore Tyler Marengo, and freshman Otto Keresztes.
It all boiled down to the fifth singles spot where FSU's Oriol Vidal Cortes was pitted against AC's John Telfer. Cortes, a junior, scored a 7-5, 4-6, 7-6 (2) win to clench the victory for the Bulldogs.
FSU hosted the non-league match at the FSU Racquet and Fitness Center.
The Bulldogs return to action Feb. 26 against Albion College. The contest begins a six-match road swing.
FSU will face off against visiting Lake Superior State University March 18 for its first conference match of the season. Last season, the team finished 6-1 in GLIAC play and 12-8 overall. n