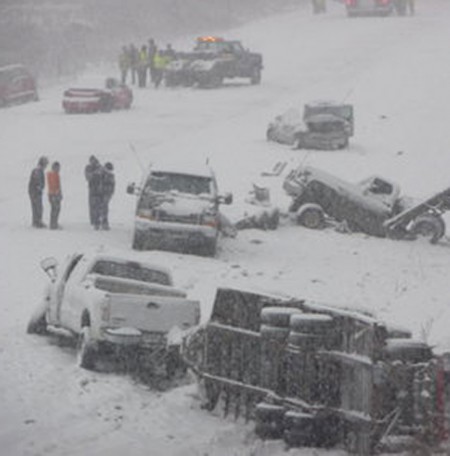 Sitting in the emergency room for eight hours, Ferris student Joshua Peters is fortunate to be home after a 50-60 car pileup on U.S. 131 left him hospitalized.
"When we hit the ditch, we rolled about six times," said Peters. "Cars were still flying by; no one saw the accidents on the road until it was a bit too late."
Peters, as well as his girlfriend and three other passengers, were headed to a Barnes & Noble located in Grand Rapids. According to Peters, when the group left Big Rapids between 2:30-3:30 p.m. on Feb. 20, there was very little snow on the road.
However, as heavy snow moved into the area, freezing rain and sleet became a dangerous problem for freeway commuters.
"We were on the highway maybe 15 minutes when it became an instant whiteout. We didn't know we were going into the storm," said Peters. "The wind and snow left it at almost zero visibility."
Emergency crews were unaware of what triggered the initial pileup. Peters said deciding to steer into the ditch helped them avoid crashing into other vehicles trapped in the freezing weather.
The large amount of wrecked and ditched vehicles on U.S. 131 in Mecosta County forced police to close the southbound lanes for several hours. At least three semi-trucks were involved in the crash. Officers used the Morley Fire Station as a place for motorists awaiting rides and family members.
Sitting rear passenger, Peters said he was the only one seriously injured of the five people traveling in the vehicle.
"I have a damaged seventh vertebrate in my neck, two broken short ribs on my right side, a dislocated right shoulder blade and a torn right shoulder muscle," said Peters.
Peters said there is a small chance he will need surgery. He said he is required to see a specialist for his back problems next week.
"They prescribed me generic Vicodin, some muscle relaxers and something to help me sleep," said Peters.
With police officers and emergency vehicles on the scene, Peters said the biggest help came from a Good Samaritan traveling through the freeway wreckage.
"This one man in a red truck helped me to get my arm where it would not hurt anymore," said Peters. "I don't remember his name, but he really helped us all out, me especially." n