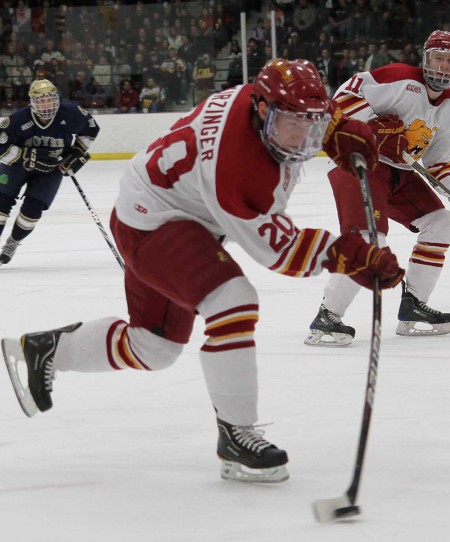 Ferris State finished the regular season earning a first round bye for the CCHA tournament after defeating Ohio State University.
The Bulldogs defeated the Buckeyes 3-1 on Feb. 25th, securing five out of six possible league points in the CCHA during the series. Ferris is in fifth-place in the CCHA and improved to 12-12-4-3 in the league and 17-14-5 overall.
"Getting a sweep was important not only for the points we earned in the standings, but you always want to go into the playoffs on a strong note," said sophomore left wing Kyle Bonis. "After the way things went against Notre Dame last weekend, this was a great statement for the team going into the playoffs."
The Bulldogs finished the regular season with a game-winning goal by Bonis. He placed the shot beyond OSU's goaltender's reach in the final two minutes of the game. Sophomore center Travis Ouellette scored in the second period on a power play goal. Senior left wing Mike Fillinger took the lead for the Bulldogs with an empty net goal scored in the third, putting them up 2-1.
"We knew how tough the series was going to be and we knew how much was riding on it," said Bonis. "We came with the right mentality and we earned everything we got."
Ferris earned a shootout victory over the Buckeyes on Jan. 24. The Bulldogs led 2-1 in the third period after junior right wing Aaron Schmit scored on the power play. But OSU equalized the goal a minute later. Ferris finished the third period on a power play but could not convert with the extra man advantage. Junior defenseman Chad Billins went on to score the only goal of the shootout, while senior goaltender Pat Nagle prevented the Buckeyes from scoring to set the Bulldogs up for the win.
"Pat Nagle has been exceptional for us this year, he definitely makes things a lot easier for us," said Ouellette. "He's a type of guy that will do anything for the team. It's a pleasure to play with him."
Nagle is currently second in the nation with a 1.97 goals against average and ranks seventh nationally with a .924 save percentage. Nagle leads the CCHA in both of these categories. Over the series, the Bulldogs only allowed three goals, making this the sixth conference series where the Bulldogs have allowed three goals or fewer. Ferris is ranked second in the nation in team defense with 2.14 allowed goals per game.
"A first round bye is huge, it is two weeks to prepare ourselves for the tough test that Western will bring us," said Bonis. "It also gives us a chance to rest and heal any bumps and bruises before we make a run at getting back to the Joe [Louis Arena]."
As the tournament approaches, the Bulldogs will be preparing to face Western Michigan in the second round. The Broncos will be hosting the best-of-three series, which will take place March 11-13 in Kalamazoo. n