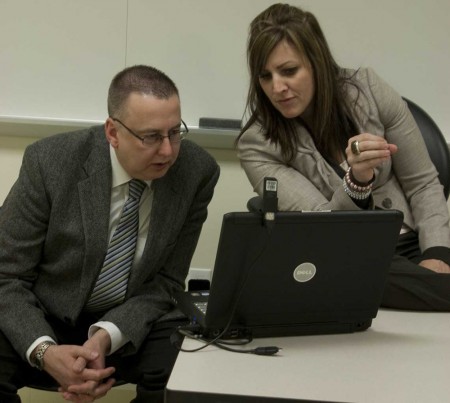 On Feb. 26 a group of students enrolled in the Master of Business Administration program at Ferris State University participated in a case study competition hosted by the Association for Corporation Growth.
There were a total of five schools competing at Grand Valley State University in hopes of victory.
The ACG is a case study competition that focuses on the skills needed in the M&A (merges and acquisitions) industry. This is an opportunity to apply academic principles and learning to a real life business situation.
The teams were given a case study and had 30 minutes to work together and come up with the best recommendation and present it to the judges. It has been said these case studies are real world cases in which the names are changed around.
This is a great opportunity for students involved and offers many job opportunities. The resume of each student in the competition is shared with the sponsoring organizations.
"Participating in this competition will set the students apart from others and will be a bragging point on their resume," said Maureen Heaphy.
Dawn Tahaney, Anne Minshall and David Verbeek were pleased with their outcome of round one, which was held here at Ferris on Jan. 22. These three have met the criteria set by Ferris to participate and compete. After automatically advancing on to round two, due to the fact this was the first year Ferris has competed in the MBA competition, they were excited to see what they could bring next.
"It's always good to be first to do anything," said competitor Dawn Tahaney of Lansing. "People remember you once you set the guidelines."
Judges were supportive of the team's commitment and effort. Tahaney expressed that the help and recommendation from the judges in round one helped them prepare for round two. Each three competitors brought something different to the team, and their dedication and teamwork showed in their success. They had spent the last five months preparing by putting together their own scenarios and solving them. The group would mostly communicate through e-mail or conference calls, which consisted of a once-a-week call every Wednesday. Throughout the entire time, the competitors had met face to face only six times before their second competition.
"This is an avenue to network and a way of being exposed," said Tahaney. "This not only builds my resume, but also gives me real world experience."
The teammates agreed they were well prepared with their answers and can only hope for the best. "We wanted to succeed and not only be recognized for our achievements, but also make the University proud," said Tahaney
The teammates are appreciative of the help and guidance brought by their advisors Maureen Heaphy, Dr. Larry Bajor, and Spence Tower. These three competitors hope to be the grand winners receiving a $5,000 prize.
"I feel honored to represent Ferris," said Anne Minshall of Delton. "This experience was incredible and I would recommend any MBA student to participate in this amazing opportunity."
The winning team will be announced at a special event along with the outstanding growth awards on March 22 at DeVos Place in downtown Grand Rapids.
"As the first team representing Ferris, we will be able to give good feedback and advice for next year's team," said Tahaney. n