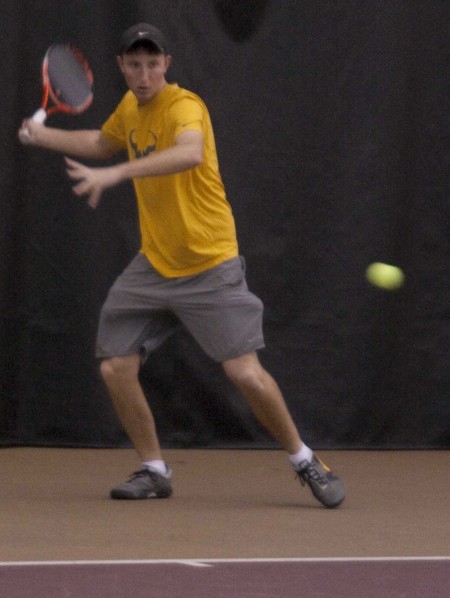 The men and women Bulldogs have launched off to a combined 4-1 start to the spring tennis season.
The lady Bulldogs shut down both opponents they faced this season by not allowing a win at any spot. The Ferris ladies improved their overall record to 13-3 this season by defeating Hope College 9-0 on Feb. 25. Their effort against non-league Hope College produced six singles victories, with five won in straight sets. The Bulldogs went on to sweep doubles competition.
"Our women's team this year is the strongest I have had the pleasure to coach," said Ferris head coach Alex Palladino. "We are rock solid at the top of the line-up, and have strength and experience right through the line-up."
The lady Bulldogs will take a trip to Illinois over spring break to face Robert Morris and Chicago University March 7-9. On their way home they will take on DePauw and Rose-Hulman at DePauw University (Ind.) on March 10-12.
Men's tennis registered its second win of the spring season against Albion by a 9-0 decision on Feb. 26. The men topped Albion College by winning doubles competition 3-0 to start the match. As singles competition commenced, the Bulldogs fought to win each spot in straight sets.
On its way back to Michigan, Ferris stopped in Toledo to compete against the Division I Toledo Rockets on Feb. 27. The Bulldogs dropped a 5-2 decision for their first setback of the season. Ferris is now 2-1 this spring.
Ferris senior Steven Roberts captured a win for the Bulldogs at the third spot in singles competition. Sophomore Tyler Marengo also snagged a win for Ferris at the sixth spot. Although the Bulldogs lost, three of the six singles match-ups went to three sets and all three doubles contests were also relatively close.
"We have several tough matches coming up during the week of spring break, which I hope will give us the experience and confidence to push us along toward a conference title later this spring," said Palladino.
The men will head to Illinois during spring break to face Chicago University on March 8. Ferris will stop at DePauw to face Indiana Tech, Rose-Hulman and DePauw University from March 10-12. After spring break, the Bulldog men will start conference play against Lake Superior State on March 18. n