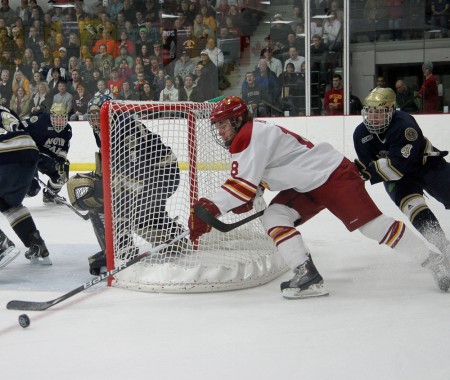 Ferris State fought Western Michigan for a chance to play in the CCHA semi-final round at Joe Louis Arena. But the Bulldogs were denied in an overtime loss to be remembered.
Ferris overcame an early three-goal deficit to the Broncos, forcing overtime on March 13 in the third game of the quarterfinal match-up. But No. 15-ranked Western Michigan prevailed during overtime defeating Ferris State 5-4.
The Bulldogs were down 3-0 early in the second period when junior right wing Aaron Schmit scored the first goal for Ferris during a power play opportunity. Western then came back and scored their fourth goal of the game.
Ferris rallied back in the second period with sophomore center Travis Oullette netting a pair of goals in the period. The Bulldogs narrowed the gap to 4-3 on Oullettes' second goal of the game during a five-on-three man advantage. Ferris gained the equalizer on a goal by freshman center Cory Kane. Three Bulldog players turned in multiple point performances, with seniors Scott Wietecha and Mike Fillinger earning two assists and Oullette scoring two goals.
"It's always tough in the locker room when the season ends. As seniors, it hits you pretty quickly that you won't be putting the Ferris jersey on again," said Wietecha. "But Sunday was a good game, and we're proud of the way we competed all weekend.
Despite a 6-1 advantage in shots on goal and several scoring opportunities in the extra session, the last chance for the Bulldogs was lost. Ferris controlled the first two minutes of the extra session by keeping the puck in the Broncos' zone. The Bulldogs lost control of the puck and Western seized the opportunity during a scoring rush attempt. Western's Max Campbell sent a wrist shot past senior goaltender Pat Nagle for his second goal of the contest, with his first gaol coming in the second period.
The Bulldogs started the series winning the first game between the two teams 3-1.
Oullete scored a pair of goals in the first game to start his post-season scoring tear. Oullette tallied nine points in his last five games of the season. Western went on to win the second game 3-1, forcing the third game.
"We were pretty confident after the first win and nobody in the locker room thought we would drop the last two games," said junior defenseman Derek Graham. "But it was an awesome season and we'll just get ready to bounce back next season."
Ferris goes into the off-season after a fifth place finish in the CCHA standings.
At 18-16-5 overall on the season, a NCAA Tournament bid is unlikely as the Bulldogs were ranked 22nd in the latest NCAA Pairwise Rankings. The rankings reflect the system that is used by the NCAA selection committee to select the 16 teams that will be invited to the tournament. n