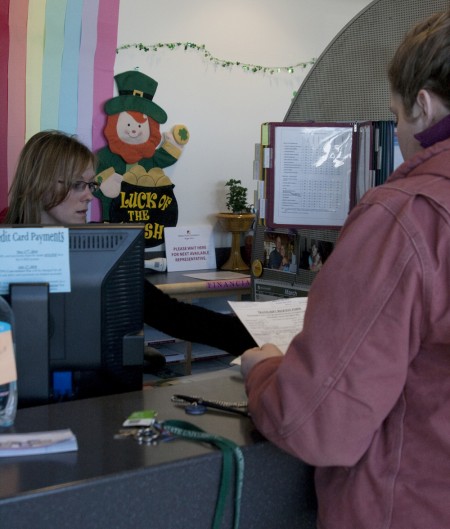 Find a penny, pick it up. If the Senate passes the proposed legislation budget cuts, the Pell Grant for Ferris State students may be reduced by $845.
Out of the over 12,000 students who attend Ferris, more than 10,000 students receive financial assistance, and 6,161 students receive aid from the Pell Grant.
Justin is Wensel, junior in the hospitality program, said, "I am scared for what the future of the Pell Grant may be. Receiving the Pell Grant is essential to continuing my education. Combined, my parents and I do not make enough money to continue my education."
Wensel believes the Pell Grant encourages students who are financially unable to pay for college to attend. With the proposed cuts, Wensel said many other students' careers may be affected as well.
Nancy Wencl, coordinator of federal aid programs, agrees.
"Ultimately, any legislation will affect all students in our nation, not just those at Ferris State University," said Wencl.
Wencl said according to government officials, there may be a projected $20 billion shortfall for the Pell Grant program in the 2011-12 school year. If the Senate passes the proposed HR1 Bill, which has already passed in the U.S. House of Representatives, the maximum Pell Grant for Ferris students would be $4,705, a reduction of $845 from the 2010 to 2011 school year.
Kayla Franzel, a radiography student, has received the Pell Grant for the past two years. She said without the Pell Grant and a residential assistant position next year, paying for her education "would be very tight, very tight." She said she still worries about how she will pay for textbooks.
Interim Director of Financial Aid Sara Dew said the budget cuts would certainly hurt students in the 2011-12 award year, as it is getting increasingly more challenging for students to receive assistance to attend college.
Dew is unsure as to how the budget cuts will affect enrollment, saying it depends on what types of financial aid each student receives.
"To complicate matters, not only do we have the federal government who is proposing cuts, but the State of Michigan has cut their student financial aid funding substantially over the past two years as well," Dew said.
Dew said some students rely solely on the Pell Grant and federal loans, while others have scholarships and grants to assist them. She advises students to plan ahead and budget accordingly, such as working a few more hours and saving a few more dollars for their future.
Wencl said it is too early to know what the final results of the pending legislation will be, but said, "The Office of Scholarships and Financial Aid is monitoring the situation, and plans to communicate any changes to our student body when the legislation is finalized."
The future is uncertain as to how students will continue to pay for their education with a reduction to the Pell Grant, but maybe if a penny is found heads up, students will have some luck.
For more information, contact the Office of Scholarships and Financial Aid at ext. 2110. n