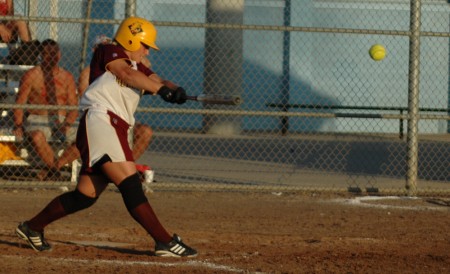 The Lady Bulldogs visited Florida during spring break to start their season against nonconference competition.
Ferris State now holds a 3-9 record after playing in the Florida Rebel Games Tournament. After the tournament last season, the Bulldogs left Kissimmee with a 7-3 record.
The Bulldogs started the tournament March 5, dropping their first double header, with both games ending closely. Ferris was within a run of a tie in both losses, but attempts to equalize in both games were squandered.
The Bulldogs turned things around the next day March 6 and captured their first win of the season against University of the Sciences (Pa.). Ferris defeated University of Sciences 6-0. Freshman pitcher Amy Dunleavy allowed only two hits in the victory. She also added two runs scored on a two-of-three hitting performance.
Ferris went on to power past Slippery Rock (Pa.) 7-1 on March 6. Sophomore pitcher Dana Bowler earned the win by striking out seven and allowing only four hits in all seven innings.
"Even though we went 3-9 for the week I felt like we performed better than what our record showed," said Bowler. "All of our games were pretty close games for the most part."
The Bulldogs earned their third win by toppling No. 24 Lewis (Ill.) 7-6 in extra innings. The Bulldogs battled the Flyers in a game that featured four lead changes and three ties. Sophomore center fielder Morgan Kramerich hit a two RBI triple and then scored in the eighth inning to put the Bulldogs ahead after what ended up being the winning hit.
Ferris finished their trip on March 12 against Southwest Minnesota State University and Wisconsin-Parkside. In the first game of their final double header, the Bulldogs were shut out by the Mustangs 10-0. In their last game of the trip, Ferris State was set back by Wisconsin-Parkside 4-1.
"Everyone is a little bummed about how our season started but we know what we are capable of and there isn't a doubt in anyone's mind we will bounce right back," said Bowler.
Since the 2007 season, the Bulldogs have built a .676 overall winning percentage and a .739 percentage in conference. Last season Ferris finished 26-16 and 17-9 in the conference. The Bulldogs have six newcomers and 12 players returning. Ferris lost four seniors.
The Lady Bulldogs will start conference play against the Lake Erie Storm March 25. This will be the first meeting between the two teams. The doubleheader will begin at 3:30 p.m. n