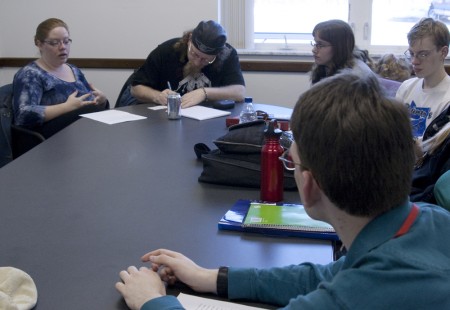 With heavy workloads, students often find it difficult to find time to engage in creative thinking.
Writers Rendering Insightful Thoughtful Exchanges, a new registered student organization on campus, aims to provide students the opportunity for self-expression.
James Young, sophomore in psychology and sociology and president of WRITE, formed the RSO last fall.
"I think a lot of students don't get the opportunity to use creative writing in college because so much of what we write is research based. I've been a creative writer for over 20 years and I noticed there was no community for writers here," said Young. "I formed this so there would be a community for students who enjoy creative writing, whatever level they're at. Whether it's fiction, poetry, or plays, as long as you're creative, we welcome you."
"The purpose of this RSO is to let students come together and express themselves freely through their writing," said Anniel Sherman, member of WRITE and freshman in information technology. "Creative writing is important to be able to give students an outlet of their thoughts and experiences in life."
Creative writing is used by many people on Ferris' campus to help express themselves and relax.
"Creative writing is important to me because it is one of the safest ways for me to express my inner being," said Jessica Alman, WRITE member and freshman in communications. "Whatever I am thinking or feeling, I can express. Also creative writing, when read, helps to build the brain and 'out of the box' thinking."
"As our members know, creative writing is important on so many levels and is often personal; and to the true writer, writing can only be defined by oneself," said Rebecca Young, WRITE's secretary and sophomore in English. "To me, writing is freedom. Writing is the ability to run faster, jump higher, and be or do anything you can dream (and articulate)."
Bernadette Fox, faculty member in the department of languages and literature and advisor for the RSO, believes creative writing is especially important during the current tough economic times.
"Creative writing is an essentially inexpensive form of both entertainment and therapy," said Fox. "Research has shown that writing can be a very cathartic experience, even if the work is never shared with anyone else. Furthermore, storytelling (or story sharing) is an art that has been cherished for centuries."
According to Fox, WRITE's purpose is to bring together a community of writers and artists. The group provides the ability to easily network with other writers and helps inform members of writing opportunities. It also serves as a forum where those with creative minds can share their work and ideas with peers.
"To me, the purpose of this RSO is to meet other writers, share our techniques, help each other expand on our talents, and support each other," said Alman.
Young explained that meetings typically consist of beginning with writing prompts to get all members writing for a few minutes and then members share pieces of creative writing that they bring with them which they wish to have critiqued.
"Because I've been writing for so long, I do little teaching episodes," said Young. "I typically do a 20-minute session at each meeting, but I'm trying to get other members to get up the courage to do it."
There are currently three or four Ferris English professors who have expressed an interest in doing a teaching session for the group, said Young.
"I would encourage those who have any interest in writing (or other art forms) to check out at least one meeting, whether they are novice writers or those with years of experience," said Fox. "I believe they will find this group to be a community of accepting, fun individuals."
"WRITE always extends an invitation to all Ferris students, no matter the level of writing expertise," said Young. "Those who are interested should check out our meeting, and prepare to laugh."
The group meets weekly and members can choose to attend identical meetings on either Saturdays or Mondays at the West Campus Community Center. For more information, e-mail iWRITE@nullymail.com. n