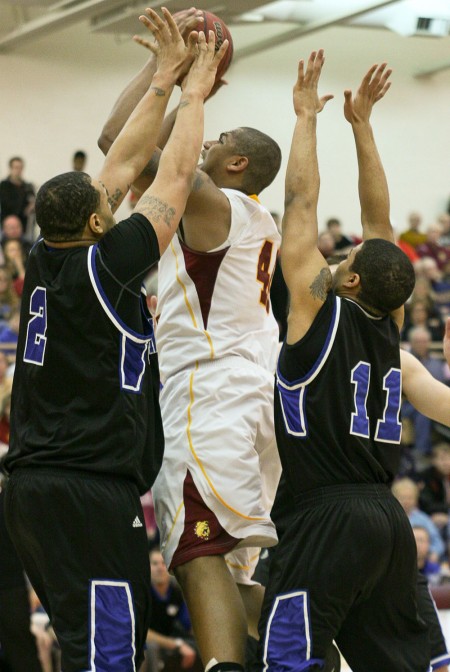 It was a magical run for the Bulldogs this postseason, but it all came to an end after an 85–66 defeat at the hands of Bellarmine on March 15.
The Bulldogs made their exit from the NCAA Tournament as the Knights outscored Ferris 48–27 in the second half to pull away with the victory. Ferris trailed 39–37 at halftime.
Bellarmine controlled the boards all night, as it outrebounded Ferris 32–22 in the contest and the Knights shot a blazing 54 percent from the field to eliminate Ferris in the Sweet 16.
Junior center Luke Sprague led the Knights with 24 points and sophomore guard Chris Dowe chipped in 22 points for Bellarmine.
Senior guard Darien Gay paced the Bulldogs with 16 points while senior center Justin Keenan tallied 15 points. Fellow senior Matt DeHart tossed in 12 points. Keenan and sophomore guard Kenny Brown were named to the NCAA all-tournament team following the contest.
"I couldn't be prouder of this group of seniors and what they accomplished this season," said Ferris head coach Bill Sall following the loss. "That's as good of a team as we've faced tonight, but we battled to the end."
It was the final game for the group of Gay, Keenan, DeHart and forward Lou Williams, as the seniors end their Ferris careers.
"It's going to be tough knowing I likely won't play with these guys again," said Gay. "They've been my brothers for four years now and I'm going to miss lining up with these guys on the court."
Despite the sting of a season-ending loss, the team can look back on an impressive season filled with team and individual records.
Keenan became the all-time leading scorer in GLIAC conference history in the regular-season home finale against rival Grand Valley State on Feb. 26, on top of recently being named as the GLIAC Player of the Year Award for the second time in his career. Keenan also was tabbed as the 2010-11 Daktronics Midwest Region Player of the Year on March 9.
In a season where the Bulldogs went 14-2 at Wink Arena, Williams also made history as he surpassed former Bulldog Adam Anderson's school record of 142 career blocks with three blocks in the "131 Showdown" at Van Andel Arena against Grand Valley State on Jan. 29.
"I think we had a great season when you look back on it," said Gay. "Obviously you want to keep playing, but we left a legacy of playing with our hearts and hopefully the younger guys take notice of that as we leave the team in their hands." n