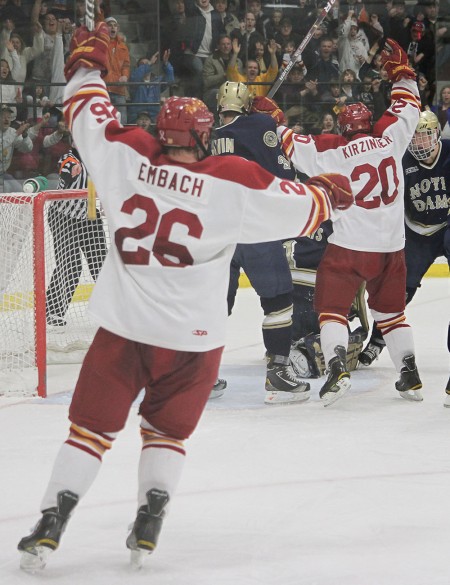 With the 2010-11 season wrapped up after an early exit from the CCHA Tournament, two Bulldog hockey players have received a chance to continue their playing careers.
Senior defenseman Scott Wietecha and senior left wing Mike Embach have both signed with professional hockey clubs after an 18-16-5 campaign in their final seasons' at Ferris.
Wietecha inked a standard player contract with the Elmira (N.Y.) Jackals of the East Coast Hockey league on March 18. With two goals and a career-best 12 assists for the 2010-11 season, Wietecha will play on defense for the Jackals. The Jackals serve as an affiliate team of both the Anaheim Ducks and Ottawa Senators of the National Hockey League(NHL).
Embach signed a amateur tryout agreement(ATO) with the Texas Stars of the American Hockey League(AHL) on March 16, following a season where Embach led the nation in short-handed goals with five. Embach tallied eight goals and 10 assists in his senior season. The Stars are an affiliate of the NHL's Dallas Stars.
With his signing to Texas, Embach is reunited with former Bulldog teammate Cody Chupp (2006-10) and also joins former Ferris skater Greg Rallo(2002-06). Embach ends his Ferris career with 58 career points on 27 goals and 31 assists in 132 career games for the Bulldogs.
Wietecha racked up 12 goals and 39 assists on 51 points in 126 games in his Ferris career. During his tenure at Ferris, Wietecha compiled a plus 16 efficiency rating, including leading the team in efficiency rating in his freshman season in 2007-08, with a plus 16 rating.
After a 12-12-4-3 ledger earned the Bulldogs a fifth-place finish in the CCHA this season, the team will have to replace six other seniors in addition to Wietecha and Embach.
Left wing Mike Fillinger, center Justin Menke, goaltender Pat Nagle, right wing Todd Pococke, defenseman Zach Redmond and left wing Nate Hennig will all leave the Bulldog program after this season.
Ferris ended the season with a 3-1 series loss to Western Michigan in the quarterfinal round of the CCHA Tournament. n