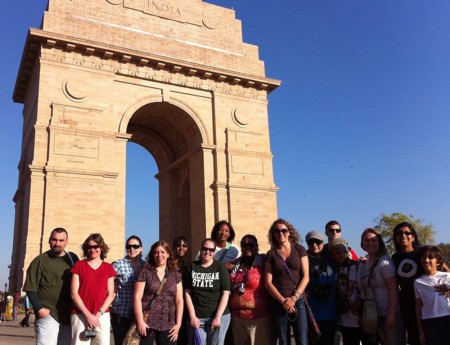 Steven MacKay had an opportunity knocking and simply answered.
MacKay and 11 other Ferris State University students studied abroad in India on an alternative spring break.
The 12 students are enrolled in a brand new course called Global Experience Learning: India, a class that takes an extravagant field trip during the semester. Throughout the course, students learn about the specific location to which they would be traveling.
"We learned about India a half semester before going. This helped tremendously in generating a true appreciation for the things we saw rather than just seeing a meaningless event or thing. By learning about it first, we were able to truly appreciate it," said Matt Weeks, a biology student from Jackson.
The students explored the culture and traditions in New Delhi, Agra and Varanasi and experienced the realities of a fast emerging economy in the foreign civilization from March 4 through March 15.
MacKay said the trip brought him a lifetime's worth of good friends and good memories, and he plans to intern in Delhi for his television and digital media production degree. He encourages students to study abroad, saying, "Just do it," because he believes such opportunities will change someone's life.
"It [studying abroad] was on my bucket list for years, so when Piram Prakasam came to an MCA meeting and told us about this class, I heard an opportunity knocking, and so I answered," MacKay said.
MacKay, native of Tustin, Mich., had met many people from India in the United States before but never realized how they were "so different from us and yet get along so well with us." He continued by saying it was a personal growth experience, which enhanced his view of the world and everyone who shares it.
Weeks said, "It's cool to see a place not conquered by Christianity. I got to see a society that still fully exists with its past, a society that is stratified and people are content in doing their Dharma, or duty in society."
During the alternative spring break, the students were able to enjoy an evening boat ride, visit government institutions, heritage sites, places of learning, medical care, businesses and places of worship.
Tara Benzing, Office of International Education Study Abroad manager, said, "I am sure the students had a wonderful global experience! They were able to learn about India in a way that no other student could have staying in the states."
According to the FSU Study Abroad website, India is "rising again" and becoming a global hub, which attracts people and businesses from around the world. OIE hopes to continue offering the Global Experience Learning course, but says the destinations may change every year.
Benzing said they would be looking into Russia and China for the next course.
For more information about studying abroad or the global learning course, visit ferris.edu/HTMLS/administration/academicaffairs/international/studyabroad/ or contact the OIE. n