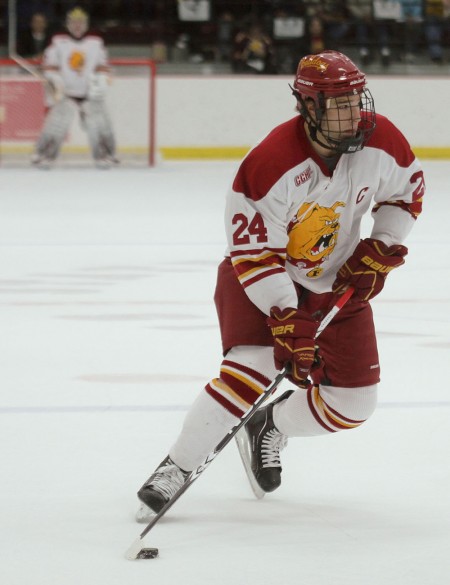 Seniors Zach Redmond and Pat Nagle were among 15 individuals recognized as CCHA award finalists.
Redmond, a finalist for the Best Offensive Defensemen Award, said he "wasn't going into things with high expectations" because of the injuries he had experienced this season.
"It was a great honor to be nominated," Redmond said. "Since the coaches pick, it shows a great deal of respect from them."
Redmond produced a team-leading 20 points on a career season-high seven goals with a squad-best 13 assists in 26 contests. He tied for fifth for the league's top scoring defensemen with a 0.77 points per-game average.
The Bulldog team captain recorded three game-winning goals and a team-best five multi-point games this season. He was also chosen as the CCHA Defenseman of the Week in January.
Nagle, a senior goaltender for the Bulldogs, was a finalist for the RBC Financial Group Player of the Year Award.
"Obviously, I couldn't have been up for the award if we hadn't had such a great year," Nagle said. "We had a great core of guys who made my life a lot easier."
Nagle recorded a 1.97 goals-against average to go with .925 save percentage. The netminder totaled 30 or more saves in a game on eight occasions this season.
With 18 victories, Nagle has the second most single season wins in Bulldog history. He was also recognized as the CCHA Goaltender of the Week in November.
The FSU seniors were also named All-CCHA First-Team selections and Hobey Baker Memorial Award candidates for their efforts in helping the Bulldogs to an 18-16-5 finish.
The awards banquet took place at Detroit's historic Fox Theatre. The event marked the beginning of the CCHA Championship Weekend.
Michigan State University sophomore Torey Kurg was named Best Offensive Defenseman as he led the league in goals from a defenseman.
Miami University senior forward Andy Miele took home the RBC Player of the Year Award. He led the nation in scoring as he registered points for the Redhawks in 29 of 34 contests, including 19 multiple-points outings.
Redmond and Nagle skated as Bulldogs for the last time in the CCHA Tournament series against Western Michigan University.
Both athletes agreed that what they will miss most about FSU hockey is their teammates.
"Obviously, I'll miss the hockey and the school," said Redmond. "But I think I'll miss the guys most. That's the toughest part." n