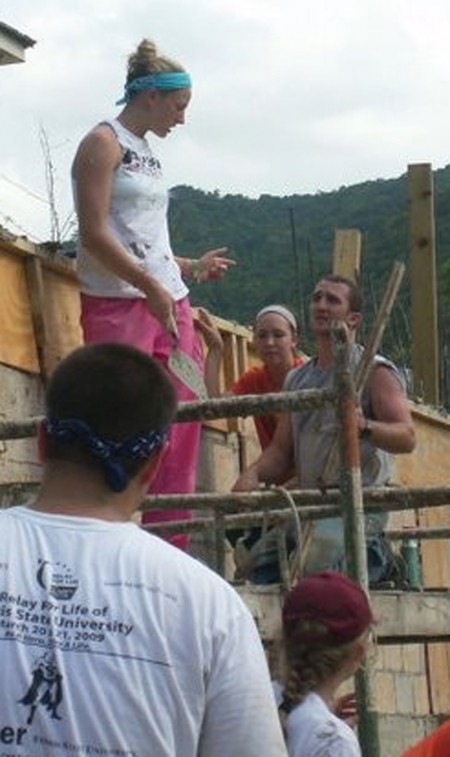 Junior Ashley Huntey and other Ferris athletes took a trip to Jamaica during spring break to help change deaf children's lives.
Huntey, a junior volleyball player from Stanwood majoring in nursing, organized a mission trip with the Caribbean Christian Centre for the Deaf. The CCCD is a United States organization that has set up three schools in Jamaica for deaf children to attend. They are stationed in Montego Bay, Kingston, and Knockpatrick.
In Jamaica, people who are deaf are considered a minority. The CCCD's schools provide a way for deaf children to learn, communicate with others, build life skills, and develop the skills needed to pursue a career after school. The CCCD also looks to teach its students about Christianity and God.
For the last two years, Huntey has been sponsoring a boy from one of the CCCD schools in Jamaica. While at Montego Bay, Huntey and her group helped rebuild a wall that had been damaged by a flood, paint around campus, clean up, and spend time with the children. The group Huntey was part of also organized a track and field day for the children.
"I know our efforts leave a lasting effect on the school because we are helping them build things, take care of things and be a mentor to children that are part of a poorer area," said Huntey. "It's also a lasting effect in the eyes of God. We as His people and have been called to preach and teach the word of God to others and help those that are less fortunate, which is exactly what this mission trip was for."
Huntey went on a mission trip two years prior to this trip and ever since then she has wanted to do more for those in need. Huntey's first trip led her wanting to go back, she said. So she gathered some of her teammates and friends to go help on her second trip.
"I really got into helping people through my faith," said Huntey. "I have become very passionate about helping others."
Once she joined Ferris State University, the opportunities presented themselves. Huntey is both a volleyball player and enrolled in the honors program, therefore community service is a requirement. Huntey attributes the growth of her passion for assisting people to the community service she has given while at Ferris.
"It was an amazing trip. I suggest to anyone thinking of missions or just going and helping others in a less fortunate situations to go," said Huntey.
Huntey finished her 2010 volleyball season with 264 digs and 338 kills for her junior season, securing the second-best spot on the team in both categories.
Currently, Huntey and the volleyball team are in spring practice. Spring training focuses on development for the fall season.
The Bulldog volleyball team also just finished a spring match against Oakland University on March 19. Ferris will compete at Central Michigan on March 26 for another non-recorded match. n