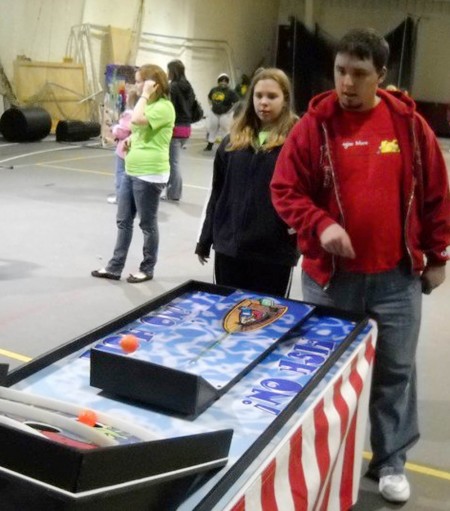 The FSU campus will soon be infiltrated by all sorts of youngsters related to our currently enrolled students.
On March 25, FSU students will have the opportunity to bring their siblings to campus for an exciting weekend of family bonding. The Sibs and Kids Weekend annual Residence Hall Association event hopes to bring attention of a larger audience to the university, while enabling students to spend quality time with their families.
"The overall goal is for students and their siblings to have a fun-filled, stress-free weekend with events and activities all over campus that hopefully appeal to a wide range of individuals," said Paul Willard, hall director of Taggart and Pickell residence halls.
The event also has other appeals for siblings and their FSU family member.
"It gives students a chance to show off campus and the way they live when they are away from their loved ones," said Duane Roberts, RHA executive board member. "I hope that the siblings have fun, get excited about coming to college, as well as have a great time uniting with a sibling that they do not see frequently."
While the event does aim to provide students a chance to connect with their siblings, it also has other goals in regard to helping the university itself.
"We also want to expose the younger generation of students to the campus and all that Ferris State has to offer to hopefully build some recognition when they eventually choose their university down the road," said Willard.
"I want this program to be used as a type of recruitment for future Ferris students and to promote coming to college to all individuals," said Roberts.
There are a plethora of activities planned for FSU students and their siblings. The events will begin with The Solo Circus act of Michael DuBois. There will also be a scavenger hunt, inflatable activities, a mini carnival, meals at the Rock and Westview, tie-dying of shirts, an opportunity to meet Brutus, and many other activities.
"We want the siblings to be highly involved in the weekend and truly immerse themselves in the campus experience and the activities we are offering," said Willard. "We hope they have a weekend of fun, excitement, and positive energy.
The event has had positive feedback in the past and there is expected to be a good turnout of siblings.
Taima Dry, sophomore in the business administration program, said, "I am very excited to see my siblings. Living two and a half hours away makes it very difficult to see them and I'm excited to show them around campus and all of the fun things there are to do here."
Dry's siblings also attended the event last year and reacted well to it.
"I love this event," said Roberts. "This is my third year working on this program and every year we try to make it bigger, better, and more worth it for the siblings. A lot of planning goes into the formation of this event, and I know it will all be worth it when I see the smiles on the siblings' faces, as well as all the students having a great time."
"My general thoughts on the weekend are the following: It is going to be so much fun," said Craig Franke, executive board member of RHA. "There is so much planned for the weekend and I am very excited to have been a part of this."
Visiting siblings are required to pay a $25 fee, which is put toward the cost of a gift, meals at the cafeterias on campus, and the events planned for the weekend. Siblings can also purchase shirts for $5. For more information, contact Willard at ext. 0272 or email willarp@nullferris.edu. n