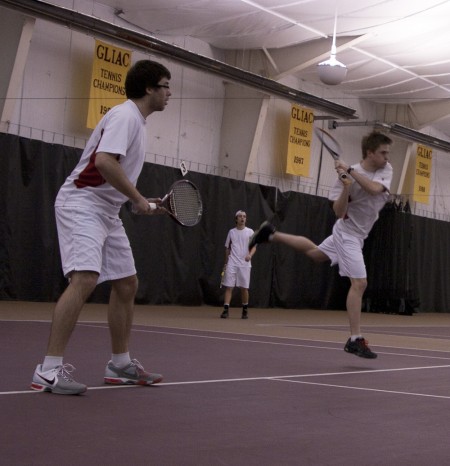 The Bulldogs have launched off to a 2-0 start in the GLIAC at the start of conference play.
Ferris set conference play in motion with a 7-2 conquering of the Lake Superior Lakers on March 18. The Bulldogs started the match 2-1, with the Lakers' only victory coming at the number one flight in doubles competition. Lake Superior went on to win the top singles position during singles play.
But the Bulldogs rounded out singles competition, winning the remaining five match-ups, four of which were won in straight-sets. Ferris handed the Lakers their 11th loss of the season, setting them back to 1-11 overall and 0-1 in the GLIAC.
"The team chemistry is at an all-time high this year so I feel everyone is putting their all into each match," said junior Jack Swan. "Having your teammates behind you, relying on your performance and results, has kept all of us very focused in our opening matches."
In their second game of conference contention, the Bulldogs vanquished Michigan Tech 9-0 on March 19. The Bulldogs leapt to an early 3-0 lead thanks to their play during doubles competition. Ferris delivered the final blow to the Huskies by winning six singles match-ups, with five finished in straight-sets.
"I really liked how we went out and battled," said senior Steven Roberts. "We know we have to get ready for Northwood so we took these matches very seriously."
The No. 40 nationally-ranked Bulldogs currently hold second place in the GLIAC at 2-0 and 7-2 overall. The Bulldogs are two conference wins behind league leader and archrival Northwood.
"This is the match that everyone on the team is looking forward to," said Roberts. "It's the biggest match all year. Last year they got to the final eight at nationals. So if we can beat them I think we have a good chance at winning the GLIAC this year as well as going deep at nationals."
Northwood is currently ranked No. 21 nationally in the Intercollegiate Tennis Association Division II Poll.
"Northwood is always a tough school to compete against," said Swan. "I think that our own lineup depth is one of our hugest advantages in the conference."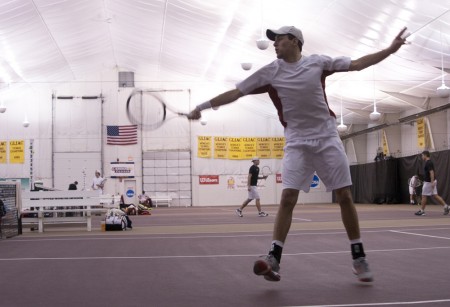 The Bulldogs will compete against five teams during the week of March 21-27. The Bulldogs will resume conference play at home against Tiffin, Findlay, and Grand Valley State after competing against Division I Western Michigan. Ferris will play Tiffin at 3 p.m. on March 25. Then the Bulldogs will face Findlay at 9:30 a.m. on March 26. Finally, the Bulldogs will wrap up the weekend against Grand Valley State March 27 at 10 a.m. Ferris will compete March 25-27 in the Racquet and Fitness Center in Big Rapids. n