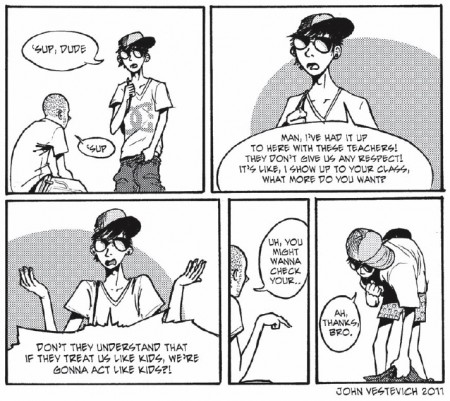 If a picture is worth 1,000 words, what is the value of a drawing? For John Vestevich, Torch resident graphic artist and cartoonist, it's worth $10,000.
That is because Vestevich, a student in the Graphic Design program, was recently awarded the Charles M. Schulz Award by the Scripps Howard Foundation for his illustrated work for the Torch, and a cash prize of $10,000. The annual award is given to the nation's best college cartoonist.
"I had to read it a couple times," said Vestevich, referring to the award announcement. "It's still slowly sinking in."
Vestevich, currently in his second year at Ferris, has been illustrating comics for most of his life. Though more familiar with conventional graphic novels, his work with humorous editorial cartoons has drawn an overwhelming amount of attention—including that from Scripps Howard. The prize is notable for being awarded to syndicated cartoonists from larger universities across the nation.
Vestevich will be in Cincinnati on May 3 to accept the award at the official ceremony, for which he will give a short speech.
"I do it because I enjoy it," he said in reference to his newfound recognition. "Doing it is the reward. This is just a neat bonus."
At age 27, Vestevich is a graduate of Michigan State with a degree in Finance. After graduating in 2006, he set out to create a career in comic book illustration, spending time developing such works as Youth is Sweet, a graphic novel that revolves around a retired special ops agent. Though a rewarding experience, he is not sure whether or not he wishes to continue this pursuit professionally.
"I'll always do it," said Vestevich. "But it might not be my career."
To view Vestevich's published cartoons, check out https://fsutorch.com/sections/opinions/cartoon/