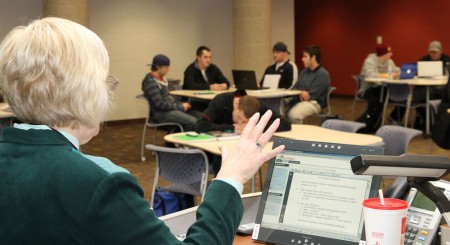 By this fall, Ferris State will have added a new degree option focusing on the many types of communication within the sports industry.
Targeted toward students studying public relations, communication, sports marketing and other related fields, the program offers a new approach to the many roles involved in this growing market.
"This program is breathing new life into a stagnant major," said Sandy Alspach, professor of communication and co-architect of the sports communication curriculum. "We can now offer something for students interested in the sports industry that can prepare them in a number of different career paths from broadcasting and journalism to business."
Though the sports communication minor will not officially be available until fall, students may declare it as soon as registration opens. Some students who have been following the progress of the program are already close to finishing the requirements.
According to Alspach, at least two incoming freshmen in the fall are declaring the sports communication concentration in applied speech communication.
"I love that we now have a sports communication program," said Ferris sophomore Dominic Hennig, public relations major. "It's something I always wanted to major in, and am glad that Ferris is now offering this."
All of the required classes for the program are already offered at Ferris, with the exception of the title course—sports communication—which saw its first class this spring. Within the first days of early registration for spring, the class was filled to capacity.
"The names on the roster haven't changed since the first week in November," said Alspach. "It's a class I don't really have to take attendance for because very few students miss."
Another key part of the sports communication program is its sports speaker series. Meeting on a regular basis in IRC 115, this class has featured guest speakers from many facets of the sports world, including several Ferris graduates. A class devoted to radio announcing featured Hennig as one of the guests.
"I first heard of the sports communications minor when Sandra Alspach invited me to speak at her sports announcers panel," said Hennig. "She asked me to speak because of my radio Play-by-Play broadcasting of our Division I hockey games on the Bulldog Sports Network."
The next featured guest is Mary Ullmer, sports editor of the Grand Rapids Press, who will speak this evening.
A survey conducted by over 600 Ferris students during the developmental planning phase revealed nearly total support of the sports communication package, with many students expressing regret that they were too far into their current programs to include the new option.
To underwrite the addition of the new program, a start-up grant was secured through efforts by Fritz Erickson, provost and vice president for Academic Affairs.
"For me personally, this has excited me and encouraged me to put off thoughts of retirement at least a few more years so I can guide the incoming freshmen through a full college program to career entry," said Alspach. n