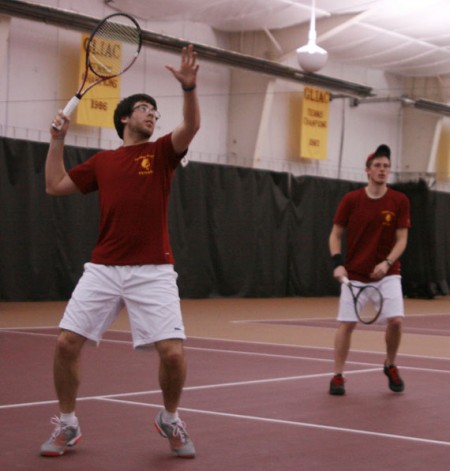 The Ferris State University men's tennis team defeated Tiffin University, University of Findlay, and Grand Valley State University as part of a three-match weekend at home.
The nationally-ranked Bulldogs slayed the Dragons 9-0 Friday at the FSU Racquet and Fitness Center in Big Rapids.
FSU captured all three doubles flights before notching victories in all six singles sets. With the GLIAC loss, TU dropped to 6-8 on the season and 1-3 in conference play.
The Bulldogs are currently ranked 40th in the Intercollegiate Tennis Association (ITA) latest poll.
Saturday was no different as FSU handed UF a 9-0 loss. The Bulldogs took the three doubles flights by scores of 8-1, 8-2 and 8-2, while clinching all six singles positions in straight-sets.
With the setback, the Oilers fell to 4-4 overall and 1-3 in GLIAC action.
In their final scheduled home contest of the 2011 season, FSU faced off against rival Grand Valley State University.
"Unfortunately, our team had some flu virus issues throughout the week, and several of our players were struggling getting back to full health," Ferris head coach Alex Palladino said. "We were a bit worn down by the final match, and I think it showed a bit in our results. The guys fought as hard as they could, to their credit, and were able to come up with a very narrow, but key, victory."
After dropping their first doubles match, the Bulldogs battled back to earn wins in the second and third flights. Junior Jack Swan and sophomore Tyler Marengo along with juniors Justin Hermes and Oriol Vidal Cortes posted 8-3 wins for FSU.
Early scoring by the Bulldogs proved crucial as the contest advanced to singles play. The Lakers won the two, three, and four spots in the lineup. Pulling out singles victories for FSU were senior Kyle Revall in the top spot and Cortes in the fifth spot.
Tied at 4 wins each entering the final match, it all came down to Marengo in the sixth singles spot. He defeated GVSU's Josh Kazdan 5-7, 6-3, 6-1 to solidify the Bulldog victory.
The GLIAC loss was the Lakers first of the season as GVSU fell to 10-9 overall and 4-1 in conference play. The Lakers are currently ranked ninth in the Midwest Region.
FSU, ranked sixth in the Midwest Region, improved to 10-4 overall and 4-1 in the GLIAC.
The Bulldogs will return to action April 1 as they travel to Ohio Dominican University for the first of their final three conference matches of the season. The team will then take on Lake Erie April 2 before playing Wayne State University on April 5.
"If we are able to pull through each of these, we will secure second place for the conference season, for the fourth time in my four years as coach," Palladino said. "That will position us as the number two seed in the conference tournament, and set the stage for a potential championship rematch against Northwood, who earlier beat us by an 8-1 margin. Our guys are eager for another crack at the Timberwolves…," added Palladino. n