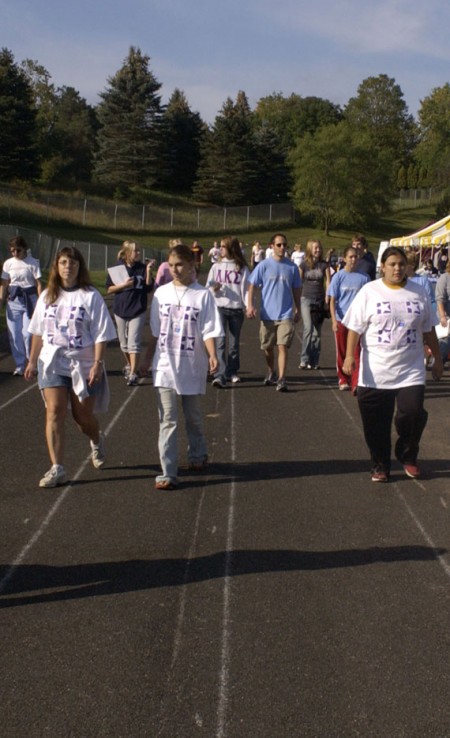 According to the American Cancer Society, over 1,500 people will die of cancer each day this year.
To feel this number a little closer to home, imagine about one tenth of Ferris State's student population alive in the morning and dead by night.
Many Ferris students have decided that cancer has taken too many lives, as they participate in Relay for Life April 1 and 2 at Wink Arena this year.
Each year, Ferris students gather to raise money for those who have been afflicted by cancer, with a final celebration on the day of Relay. Those who have either survived or lost the battle to cancer are honored and remembered. But if Relay for Life were simply a blind walk for nameless faces, it wouldn't be so powerful. Rather, most students have a personal connection to the disease and have their own reason to Relay.
Josh Jacoby, a pharmacy student, lost his mother to acute myelogenous leukemia shortly after last year's Relay, and despite the struggle, felt she'd be proud of Relay's efforts.
"I was hoping my mom was going to be there last year, but she didn't quite make it. Going to one would have really moved her. Though I think it's cliché to say that we're finding a cure to cancer, our goal is to take it one step at a time with the information that we have accessible so that each day we can slowly eliminate it by finding cures to different types," said Jacoby.
"Breast cancer has affected nearly all members of my father's side of the family," said Elizabeth Troost, pharmacy student and secretary for Colleges Against Cancer. "When my grandma was diagnosed, she moved in with us during the end stages and through her chemotherapy. I experienced first-hand the battle she went through. It was my grandma's bravery and hope through her trials that gives me hope for a cure."
Missy Parker, a sophomore in chemistry and ITC, took the creative fundraising idea of a bowl-a-thon and ran with it, inspired by her step-mom who died of lung cancer in the fall of 2010.
"My step-mom, Krissie, had never smoked in her life, and she was practically my real mother. I'm still recovering from that, and I'm not sure if I will. But, on the bright side, she inspired me to join CAC as well as volunteer to be the captain of the Ferris Stars team," said Parker.
Parker raised over $1,000 at the end of the event and plans to set her goal even higher next year.
"No matter what ethnicity, gender, or age someone may be, cancer doesn't care. An event like this testifies to that and helps those who've lost someone know that they're not alone. And for survivors, it's a good place to share stories and successes of their journeys to beating cancer. Each dollar made is one step closer to reducing the number of those who die," said Parker.
Other students have an even closer connection to cancer, like Kelli Alexander, a pharmacy student and vice president of CAC, who won the battle against acute lymphoblastic leukemia. Alexander was diagnosed in June of 2008 and continued to go to school, despite having to go to the University of Michigan every week for treatments.
"Being in classes and being sick all the time was definitely a hurdle, but it was a lot easier being around friends than being at home laying in bed all day thinking about being sick," said Alexander, who also had great support from her fiancé Cory Smith, a junior in surveying engineering.
"I took her to her appointments, administered some of the medications, and was her emotional crutch. We started dating a month and a half before she was diagnosed, but I didn't question our relationship at all and I knew that I wasn't going anywhere. I felt like I'd been prepared to take in something like this and I was ready because my mom has been disabled my entire life. The first year of Relay was hard because she was sick and had an unclear future at the time," said Smith.
"I don't Relay just for myself. There's the people at U of M and I have a lot of family that has gone through it. I Relay for everyone. I just have that different perspective because I've been through it," said Alexander.
This year, Alexander and Smith have a new hope along with many other survivors who will be attending Relay.
"It's nice that the college kids and community members come together. Last year our survivor speaker was Dr. Luplo, an optometry professor, and there are other community members who are survivors," said CAC member Andrea Jarzynski.
The theme for this year's Relay is Monopoly and board games.
"Since it's Monopoly, this year we're doing deeds instead of bed sheet banners. I think it's a really fun way to organize an event and base activities around it," said Kim Johnson, CAC member and junior in chemistry.
For more information, contact Troost at trooste@nullferris.edu n