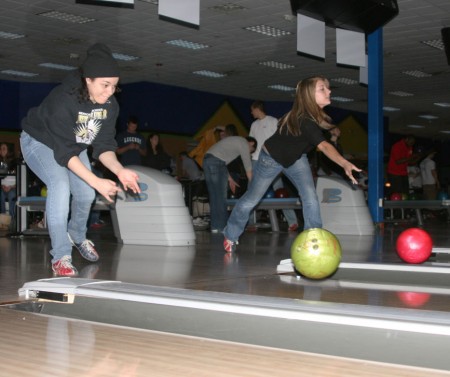 Area bowling teams filled the lanes at the Gate for Mecosta and Osceola counties' Big Brothers Big Sisters (BBBS) "Bowl for Kids' Sake."
"The Gate has been very supportive in our efforts," said Linda Bula, former president for BBBS and current advisory board member.
"I am very pleased with the attitude of the students and their willingness to give to the community," said John Calabrese, executive director of BBBS. "It is so great to see all the Ferris students and communities so involved."
Several registered student organizations were involved in the event, including Ferris Idols, YBBW, Phi Sigma Sigma, RHA, AST, Student Alumni Gold Club and Alpha Chi Rho.
Sally Workman has been involved in the program for over a year.
"There are so many great kids that need people along side of them and spending time with them," said Workman, a member of the Foster Care Review Board.
Workman is a positive influence on 14-year-old Katie. She has been a Big Sister to her for over two years.
"Being a Big Sister is such a great experience," said Workman. "You get as much out of it as the children, if not more."
Workman said her experience growing up in a foster home gives her a better understanding of where some of the kids are coming from, and in a way that she can relate to. "I had a mentor who had a big impact on my life growing up and I want to be able to give the same great opportunity I had to someone else," said Workman.
Katie, the Little Sister, lives with her father, who struggles financially. Katie's father got her involved in BBBS because he said it's important Katie has a female influence in her life as she grows into a woman.
"You can see great strides in this young girl," said Workman. "She has such a big heart. She just needs guidance."
Workman said being involved can be hard because a Big Sister or Brother may not always see an immediate return from the children.
"You can't do this to expect to get something back. You do it because you want to give back to people," said Workman. "You have a huge impact in these kids' lives."
She said it is important to be careful that she is giving Katie advice and suggestions and not parenting her.
Katie is involved in choir in her school, and Workman enjoys watching her on stage at her concerts. "Anywhere I can be involved, I am," said Workman. "It's so important that she knows someone cares about her."
Katie and Workman meet with each other at least every other week. Workman took Katie on her first trip to Grand Rapids. The two also saw a play and went to the mall, which was Katie's first time. Workman said they also like to go out to dinner together or even cook dinner at home.
"I taught her how to set the table," said Workman. "She had never had anyone teach her these things and it was such a rewarding experience."
The two hope to attend a Whitecat's game this year, as well as go to Ludington and to the beach.
"She is a smart young lady who can do anything she puts her mind to," said Workman
Workman's husband, Tim, also has a Little Brother named Timmy, who is 14 years old. As a Big Brother, Tim took Timmy to his first Detroit Tigers game, which was something Timmy had wanted to do his whole life. They have also gone to Ferris hockey games, and have even ice skated together.
"It's a wonderful feeling of closeness you gain with the kids," said Workman. "It really encourages you to give back and a feeling of wanting to do more."
Through "Bowl for Kids' Sake," BBBS raised an astonishing $6,000. The event was held March 22-23.
"Bowl for Kids' Sake" is about having fun to help kids continue on a positive path," said Bula. "It is a chance to involve Ferris and the community in a common fundraising activity to support a great program in mentoring." n