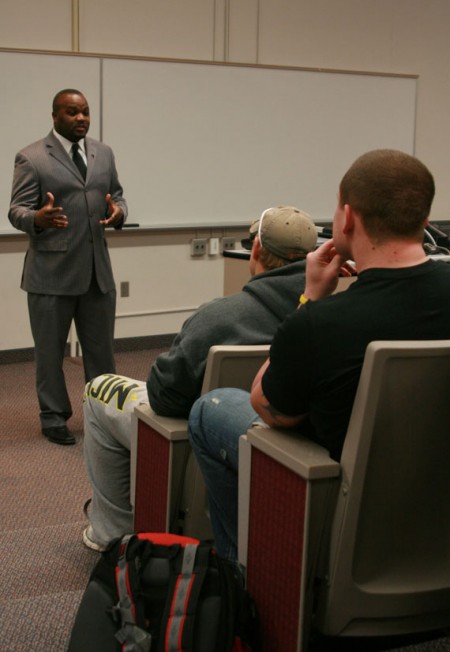 When most people leave Ferris after graduation, most would like to say that they see a successful future for themselves.
Some individuals may settle for a modest career after school, but Ferris alum Ira Childress has settled for nothing.
Childress, a 2003 graduate in applied speech, made a return to Ferris on March 28 to speak with the newly-created Sports Communication class about the professional and business side of sports. A Baldwin native, Childress currently works for the NCAA as an Assistant Director of Leadership Development.
With meetings with such individuals like NFL Commissioner Roger Goodell and Penn State football coach Joe Paterno as part of his everyday work, Childress has turned out to have a successful career at this point.
"I never feel like I've made it in my career. I still feel like that kid that had to flight and claw to get to where I am today" said Childress. "I feel that when you start thinking that you've made it, you start setting you set yourself up for failure."
While Childress has worked hard to get where he is today, his career could have taken a much different path.
In his undergraduate years at Ferris, Childress was an undeclared football player who thought a career in industrial psychology was the right path for him. But it took a conversation with communications professor Sandy Alspach on one fateful day that set Childress on the path to an eventful career.
Knowing that he wanted to do something that could apply to the sports world, Alspach suggested that a degree in communication would open up many opportunities to break into the world of sports.
"It was my junior year that I knew that I wanted to move to the next level with a career in sports and to make my way into the business world after my time at Ferris" said Childress.
As Childress became a leader in the communications program, he grew closer to Alspach and fellow communication professor Cami Sanderson, who was just beginning her career at Ferris during Childress' college days.
While Childress attributed much of his professional development to his communication professors, determination and hard work helped earn Childress internship opportunities at 9&10 News out of Cadillac and at Fox 2 news in Detroit.
As Childress ended his undergraduate career at Ferris, the university gave Childress a chance to continue his education by offering to pay for Childress to get his master's degree in education. Childress earned this opportunity through an internship at Ferris in the alumni department, where his hard work was on display frequently.
The internship turned into a career at Ferris for Childress, as Childress was promoted to Alumni Relations Coordinator and held the job for five years.
But with all of the success that came along at Ferris, Childress took a chance in 2008 and applied with the NCAA for a job opportunity Childress said that while he thought he had a good chance to land the job, he went into the interview process relaxed and with no notes.
The relaxed and honest approach worked quite well, as Childress was offered a job and was on the way to working with several high-profile members of the sporting world.
So while Childress can look back on how he got to where he is today, he stressed to the class that while individuals can think that they've made it in the professional world, there is always something that can be improved.
"If you're at Ferris State, believe in yourself and believe in the education here," said Childress. "If you can work on your skills all the time and diversify your portfolio, you can be successful. Just because you're from a smaller school doesn't mean you can make it work." n