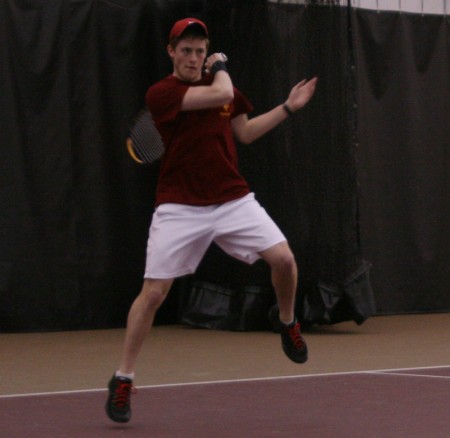 The Ferris State University men's tennis team routed Ohio Dominican University and Lake Erie College on their way to a pair of GLIAC wins this weekend.
On April 1, the Bulldogs notched an 8-1 victory over the Ohio Dominican Panthers.
FSU then defeated Lake Erie 9-0 the next day.
Both schools are newcomers to the Great Lakes Intercollegiate Athletic Conference as of this academic year.
"The guys have done a great job getting up for their matches," said Ferris head coach Alex Palladino. "Although balancing an intense competitive schedule with school is a challenge for each of them, they have demonstrated excellent enthusiasm and intensity in their tennis."
Sophomore Tyler Marengo contributed singles and doubles wins to the Bulldogs. He was recently named "Athlete of the Week" by the GLIAC for his efforts against University of Findlay, Tiffin University, and Grand Valley State University last week.
"In many instances, the number six spot is the last one playing, and often the pivotal match to decide the outcome," Palladino said. "Tyler has been dealing with that pressure for two seasons now, and is becoming much more comfortable as he gains experience." 
According to Palladino, the team "will continue to rely on his clutch play down the stretch."
With the wins, the Bulldogs improved to 12-4 overall as well as 7-1 in GLIAC action.
The team is fighting to stay healthy. There has been some illness as well as sore shoulders among the players, according to Palladino. However, he is confident the squad is "ready for the challenge" presented by the remainder of the season.
For its final GLIAC regular-season match, FSU will travel to Wayne State University Tuesday to face off against the Warriors.
"We know how important the WSU match is, and have been looking forward to it," said Palladino. "We hope to come away with a win that will secure a second place finish in the dual portion of the conference." n