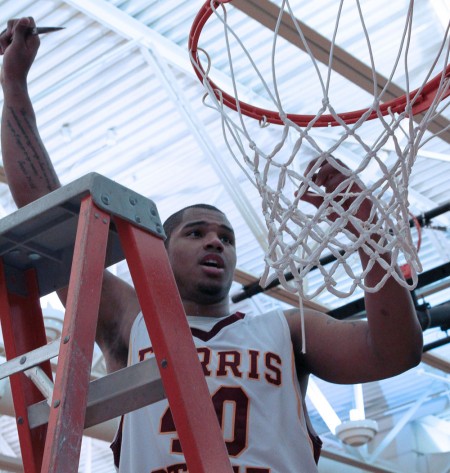 Justin Keenan just wanted to win a championship. That's the one goal the senior center for the Bulldogs had during his collegiate basketball career.
But while the Bulldogs fell short of that goal this year after an impressive run to the Sweet 16 of the NCAA Tournament this season, Keenan will have to settle for finishing his Bulldog career as one of the most prolific players in GLIAC history.
After being named as the Division II Bulletin Preseason National Player of the Year before the season and after a season where Keenan became the all-time leading scorer in GLIAC history, Keenan has racked up award after award this postseason to cement his place as one of the most successful players in Ferris and GLIAC history.
"Right now it just feels great to be recognized as one of the best players in the country, but it did come as a shock to me," said Keenan. "It just shows that hard work pays off."
Keenan received his most prestigious award of his career on March 28, as he was named the Division II Bulletin National Player of the Year. The award marks the first time in Ferris history that a player has been named as the national player of the year.
"As our Preseason Player of the Year, Justin was expected to have a great season and he certainly did," said Gary Rubin, editor at the Bulletin. "He was a force on both ends of the floor for a top caliber team. He is most deserving."
But the player of the year honor was only one of many for Keenan, as he was named to the 2011 Daktronics All-America First Team and was named as the Daktronics Division II Midwest Region Player of the Year. Keenan also was most recently tabbed as a Basketball Times All-America First Team selection on March 31.
"This culminates Justin's outstanding career and is a direct result of all the hard work and dedication he's made over the last four years," said Ferris basketball head coach Bill Sall. "He's been a special player and helped lead us to great things this year along with his fellow seniors and teammates." 
Behind a season average of 21.6 points per game, a career high, Keenan was named as the GLIAC Player of the Year for the second consecutive year, becoming the first Ferris player to earn the award twice.
Keenan finishes his career at Ferris with 2,259 points in four years, placing him in second in Bulldog history. The school record for most made free throws in a career also belongs to Keenan, as he made 797 during his tenure at Ferris. n