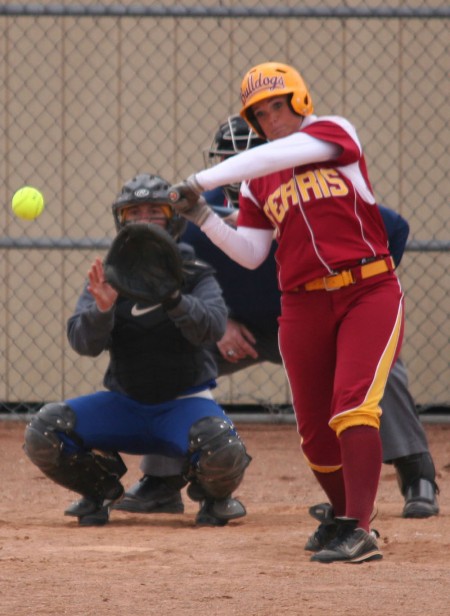 A snowy spring has kept the Bulldogs from playing on their home field at all this season, forcing game-day cancellations and even relocation. But the Bulldogs have not let that faze them.
The Bulldogs submerged the Lake Superior State Lakers in both games of a single doubleheader April 2. Ferris travelled to Rockford High School to host the Lakers, in an attempt to avoid bad weather and field conditions. But due to winter weather conditions scheduled doubleheaders on March 31 and April 3 were cancelled.
"We were happy that we were able to get some of our conference games in and at least we were close to home so our friends and family could come watch," said sophomore pitcher Dana Bowler. "We are all very grateful that Rockford welcomed us and let us use all of their facilities."
Ferris relied on the play of junior first baseman Chelsea Morris in their 4-3 win over the Lakers on April 2. Morris' three base hits and three RBIs excelled the Bulldogs past the Lakers. Freshman pitcher Amy Dunleavy thwarted a late rally by Lake Superior in the finals innings to secure her third victory this season.
"It is very frustrating that we haven't even practiced outside since coming back from Florida. There isn't really much we can do, just take advantage of the practice time we do have between games," said senior shortstop Lynsay Weaver.
Bowler stymied the Lakers in the second game of the doubleheader, garnering a 5-2 victory over the Lakers. Bowler limited Lake Superior to two hits and no earned runs, while striking out seven of the Lakers' hitters. After the victory, Bowler is now 5-4 this season.
"I felt like we had two solid performances against LSSU," said Bowler "I think our pitching is improving to where it needs to be and a lot of people are stepping up and getting the job done when it comes to scoring runs."
Ferris accumulated 12 hits against the Lakers. Four of the Bulldogs' sluggers had at least two hits apiece, while sophomore Makenzi Peterson paced the Bulldogs with three hits. Sophomore Lainee Clay batted in two runs with her two-hit performance.
The Bulldogs improve to 8-12 overall and 5-3 in the GLIAC North Division. Meanwhile, Lake Superior falls to 3-12 overall and 0-8 in conference play.
"We have some tough games in our future and you can be sure we will be pumped and ready for them. But, for now we are taking our season one game at a time," said Bowler.
Ferris will start a six-game road swing at Northwood on April 6. The doubleheader is set to begin at 3:30 p.m. with the second game beginning at 5:30 p.m. Northwood is currently 3-3 in conference play and 9-9 overall, sitting one place behind the Bulldogs.
Ferris will head to Saginaw Valley State April 9 and 10 for a weekend series of doubleheaders. Saginaw Valley is 8-2 in conference play and 21-8 overall. n