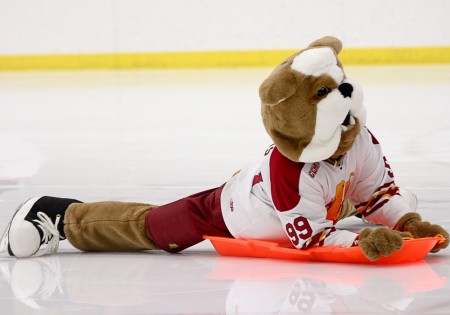 It is not the size of the dog in the fight, but rather it is the size of the fight in the dog.
From sporting events to homecoming to recruiting, Brutus is often the first image people see when they get to Ferris. He is usually the one cheering the loudest, causing the most ruckus, and even the onehaving time to make a kid smile at any event.
Brutus, our beloved Bulldog, is the face of Ferris State University and has become a pivotal part of our Ferris career. From our first informational meeting back in high school to our graduation date, Brutus has been right at our side making sure we are top dog, behind him, of course.
Since the mascot has to be seen by many, not just any Bulldog can be standing in front of a crowd. It takes a special kind of person, and that is why the Student Alumni Gold Club takes great pride in its secret.
As a Ferris State cheerleader and a member of the Student Alumni Gold Club, Jim Connors, a senior in chemistry, knows all too well what it is like working with the dog.
"I've been working with Brutus for five years now, and it's encouraging to be able to work with a figure such as Brutus. No matter what is going on, he has an ability to bring out a positive vibe and so far all the individuals who have been in the suit have been a blast to work with," said Connors.
Brutus is no young pup either; he stepped out on the ice over thirty years ago and the Bulldog has been going strong ever since.
Brandi Behrenwald, the assistant director of Alumni Relations at FSU and Student Alumni Gold Club advisor, tells us that Brutus wasn't always around.
"Ferris used to be called the Spartans and then in 1931 a sportswriter wrote a column referencing us as the Bulldogs. It wasn't until 1979 at a hockey game against the University of Michigan – Dearborn Brutus stepped out and made his first appearance," said Behrenwald.
With such an honor sealed at its lips, the Student Alumni Gold Club has to keep the identity of the Bulldog a secret. Brett Kage, the most recent Bulldog, stresses the importance of making sure the secret is kept.
"There are over 40 members in the club, and those members have to sign a contract saying they will never tell anyone outside of the Student Alumni Gold Club who Brutus is," said Kage. "Seriously, you become a great liar. It sounds bad, but it is all in good fun. When people ask you to come to a sporting event with them or they see you carrying a bag that is larger than you around campus, you just come up with a little fib."
Kage loved his experience becoming the Bulldog so much that he decided to switch his major and even rethink his career plans.
"I graduate in May and I am definitely considering trying out for a professional mascot position. One of the reasons I switched my major from professional golf management to marketing was because many people who play the part of a professional mascot also work in the marketing department for their sports team's organization," said Kage.
Keeping up with Brutus proves to be quite a task though. As a cheerleader, Connors tries to keep Brutus tame even though he is quite an athlete.
"Him and I do a stunt where he stands on my shoulders and the first time we did this the crowd gasped because he looked like he was going to topple over. I knew he was safe but it was funny because the crowd was freaking out," said Connors.
Along with sporting events, the dog is at every Bulldog Day, job fair, Bulldog Bonanza, parades, and a lot of the alumni events. With a schedule like that, it is hard for this mascot to relax.
"A typical weekend could consist of a hockey game Friday night and then Dawg Days the very next morning followed by two basketball games and another hockey game," said Kage.
Proving to be quite a ham in front of the crowd, this dog is not afraid to try new things, even when put in heated situations.
"Several months ago when we were debuting the new mascot suit, Brutus and the campus photographer were shooting some pictures in the hospitality department and Brutus decided he wanted to do some cooking," said Behrenwald. "As you can imagine, Brutus got a little too close to the open flames and had to drop the lit pan. Luckily, Brutus was not injured, but he did whimper and whine a little."
Since Brutus received his new look in September of 2010, the Bulldog mascot program has taken off and many organizations and community members are requesting Brutus at their events. Brutus even has his own Facebook page and with over 1,600 friends, it is no wonder he is top dog. n