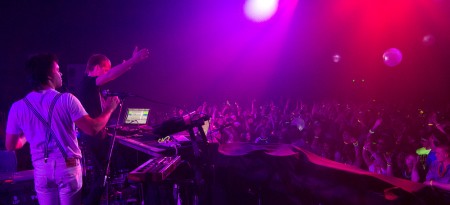 The first Turn Up The Good event brought FSU a brand new genre of music that introduced Ferris students to a whole new musical experience.
Wink Arena was packed with students last Thursday who turned out to see The Glitch Mob, Virtual Boy, Item9, and Ferris' own Keaton Kidder. 1,548 students, community members, and even faculty bought tickets and attended the performance.
The response from students was overwhelmingly positive.
Freshman in the pre-pharmacy program Shane Link thought the concert was awesome and "intense."
"The lady twirling around the silk ropes was my favorite part," said Linke. "Especially since she was wearing practically nothing."
"I heard eight out of my top 10 favorite songs tonight," said Ryan Schmich, sophomore in the pre-pharmacy program. "Virtual Boy played an obscure remix that I've only ever heard like once, but it was the best thing ever."
Sophomore in the pre-pharmacy program Jack Hermann was introduced to music at the concert that he now considers to be some of his favorite.
"I didn't know it, but Virtual Boy was the reason I came here tonight," said Hermann at the concert. "The best thing was the Harry Potter remix."
Katie Milbourne, sophomore in the advertising and integrated marketing communications program, said, "They did an excellent job putting on the show. I know I had a lot of fun and it was great to see how many people came out to see the bands."
Dave Kalaf, senior in the engineering computer network systems program, put it simply by saying, "It was a rage of epic proportions."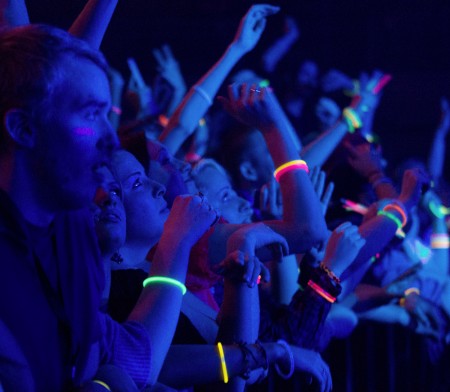 "It was a cool idea," said Melanie Ronquillo, freshman in the graphic design program. "It wasn't something I would have done if it wasn't already here. My favorite part about the whole thing was the atmosphere of the concert."
Not only did the people who attended the concert have a great time, the bands also enjoyed and appreciated the energy and atmosphere they were presented with at FSU.
"It was very cool performing here. Very unexpected, but in a cool way," said Virtual Boy member Preston Walker. "You guys have a different outlook on electronic music here. You're all super down, super cool, and super happy."
"Absolutely incredible. Off the chain," said Glitch Mob member edIT when asked how it was performing at FSU. "Small towns are always the funnest shows. People are always excited and it's always a big deal. We had a blast."
The people and groups involved with creating this event were also pleased.
"Five months ago all of this was just an idea. Because of the hard work of several key people, money allocated to us, and the support from everyone who believed in it, our idea became a reality," said Lauren Perry, Music Industry Management Association president.
Alex Gohl, MIMA and Entertainment Unlimited member, said, "We had an efficient and enjoyable show, and of the ticket sales, over 75 percent of them were Ferris students." n