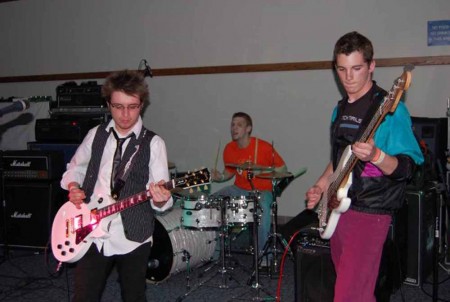 Though a lot of students in the music industry management program plan to use their degree to get a management position in the industry, some of them dream of making it big as stars themselves.
Chris Cranick, sophomore in the program, wants more than the business aspect as his band Overdrive Orchestra works toward being a successful touring band.
"I think we're definitely on our way since where we've started. We've done a lot more shows, and we're actually looking to have an end of summer tour the last month of summer, as well as looking to record. Ultimately, we want to be famous professional musicians, so I'd like to think we're on our way there," said Cranick.
Playing guitar and singing since early high school, Cranick's band Overdrive Orchestra formed last minute for a high school talent show. Current band members are Cranick; bassist Adam Bogues, sophomore in music industry management; and drummer Cody Powers from Cranick's hometown of Hartland.
The band can be seen around campus as they played at Rockin' the Rooftops and Relay for Life, helping to keep relayers awake. Recently, Cranick and Bogues performed at College Night at Applebees, playing original songs as well as pieces by their influences such as Alice in Chains, Queens of the Stone Age, and Led Zepellin.
Connor LaRowe, freshman in music industry management, met the band in its high school years, and his company Fusion Shows booked Overdrive Orchestra for a local concert. When LaRowe found out Cranick was at Ferris, he got back in contact and has been a fan ever since.
"Overdrive Orchestra has talent that most young bands don't have. The songwriting skills of the band are phenomenal, and they don't try to fit a certain genre," said LaRowe. "They write just straight up rock and roll songs, which in my opinion will help them because people will realize how real they are. They aren't trying to be another fake, typical, carbon copy band playing music for the wrong reasons."
Overdrive Orchestra has put out one CD titled "The Grey Area," as well as numerous other independently recorded live performances from shows at places such as Clutch Cargos in Pontiac, The Machine Shop in Flint, Hartland Performing Arts Center, and the Howell Opera House.
David Wilson, junior in music industry management, is also putting his major to use as manager of the band, taking over aspects of graphic design, social networking, booking, sales, promotions, and website management. Wilson has become good friends with the band and is suitemates with Chris.
"I think Overdrive Orchestra has quite a good shot at becoming an established touring band. They have solid songwriting and play very tight performances, and being at Ferris is the best place to get some real world music business experience," said Wilson. "I really enjoy their laid-back attitude toward life and the passion and drive in their music."
Despite the optimism of their fans, Overdrive Orchestra continues to stay humble, realizing the hard work and networking that goes with finding success.
"My major has helped tremendously. I've made so many connections not only with people in my program, but also at the National Association of Music Manufactures Show. I got to meet with a bunch of different people from manufacturing companies such as Gibson and Fender and that was another good way to get internship opportunities," said Cranick. "It really doesn't always matter how good you are; it's who you know."
"'Making it' as a band in the music industry is really hard. However, I think if Chris and company develop a game plan to get their name out there, they have a better shot than most bands," said LaRowe. "They're passionate and never stop working hard. A lot of bands lose motivation after a while, but Overdrive Orchestra acts as every show—no matter how big or small—is important."
For more information on the band and to check out their music, visit overdriveorchestra.com. n