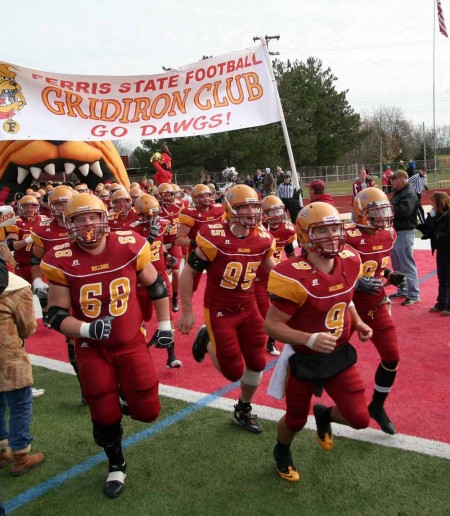 With the snow melting away and the sun finally making an appearance, the Bulldogs continued their spring preparation with the first major scrimmage of the year.
Ferris strapped on the helmets for its first scrimmage of the spring session as the Bulldogs hit the midway point of spring ball. The Bulldogs took the field at Top Taggart Field on April 9 for the first time in front of the public this season to showcase the work they've put in during the offseason program.
All three phases of the game were on display during the scrimmage, as the team scrimmaged through situational plays with the offensive, defensive and special team units all involved.
"Offensively and defensively, we need to crank it up to another level," said Ferris head coach Jeff Pierce. "It's not rocket science. To get to the next level, everything has to go to the next level and you'll get there."
After starting out 2010 with a blazing 5-1 record out of the gates, the Bulldogs limped down the stretch with five consecutive losses to close out the season at 5-6. While an improvement over 2009's 1-10 campaign, Ferris will look to continue the upward trend in 2011 with hopes of posting a winning record for the first time since 2008.
Despite losing strong senior leadership with the departure of players like receiver Chris Wilson and linebacker Matt Ryan, Ferris will return in 2011 with a strong core of younger playmakers who will be counted on to take the team to the next level.
Junior quarterback Tom Schneider will be counted on to continue his playmaking ways after accounting for 18 scores through the air and on the ground in 2010. Junior receiver Mike Ryan will look to bolster the receiver corps again after leading the Bulldogs in receiving yards and receiving touchdowns in 2010.
The defense will look to returning leaders like sophomore linebacker Tayo Moss to help lead a defense that was the eight-ranked defense in the GLIAC last season. Junior cornerback William Miles will be looked to in the secondary after tallying five interceptions in 2010. Ferris has 19 returning starters on both sides of the ball.
The Bulldogs will scrimmage twice more this spring, as they will take the field again on April 16 at 1 p.m. before finishing up the spring with the annual Crimson and Gold Spring Game on April 21 at 6 p.m. Both events will be held at Top Taggart Field.n