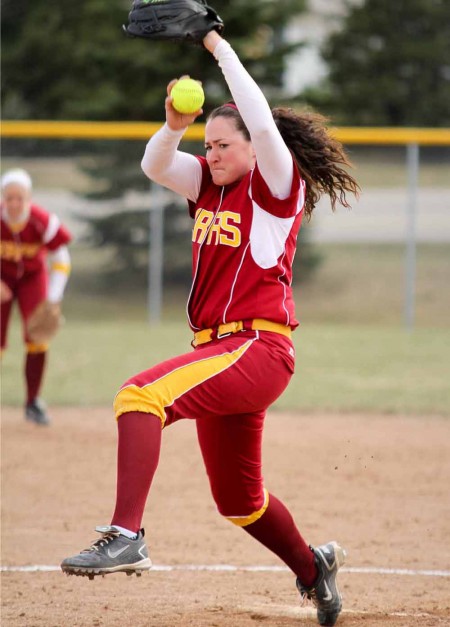 The Bulldogs forced a weekend split on the road against Saginaw Valley State that prevented the Cardinals from securing the top position in the GLIAC North Division standings.
Ferris began its weekend on April 8 by breaking out the brooms for a series sweep of Lake Superior State on the Bulldogs' home field.
The Bulldogs trounced Lake Superior State in a 4-0 shutout in the first game of the double header. Sophomore pitcher Dana Bowler allowed only one hit in seven innings to retire the LSSU Lakers and secure her fifth career shutout.
Ferris went on to defeat the Lakers in the second game, 13-9, in eight innings. The Lakers tied the game at 9-9 in the bottom of the seventh, forcing extra innings. But the Bulldogs quickly loaded the bases, earning four runs in the eighth to build a 13-9 lead.
"I think that a lot of players felt comfortable playing at home against LSSU and we were all determined to win our home opener," said Bowler.
Originally the matchup was scheduled for April 3 at Rockford High School. But due to weather cancellations, the Bulldogs rescheduled the matchup and resumed the series on a familiar field.
The Bulldogs went to Saginaw Valley State on April 9 looking to add to their three-game win streak.
Ferris started the series with a 1-0 defeat of the Cardinals. The contest showcased two of the conference's top pitchers in the Bulldogs' Bowler and Saginaw Valley State's Jade Fulton. Bowler's pitching performance was lights out again as she held Saginaw Valley to only two hits.
The Bulldogs went on to win 9-7 in the second game. Sophomore utility player Lainee Clay's home run in the fifth inning scored three runs and solidified the Bulldog win. Saginaw scored three runs at the top of the seventh, but Bowler held on to capture the victory.
Ferris rolled by the Cardinals in the first doubleheader of the weekend series, building a five-game win streak. But Saginaw Valley State went on to end the Bulldogs campaign in an act of redemption.
"Saginaw Valley is a very good team in our conference, and even though it would have been great to win all four we are very happy to take two from them," said Bowler. "It is hard playing a strong team like Saginaw four times in one weekend."
Ferris lost both games of the second doubleheader on April 10. The Cardinals started the doubleheader with an 11-8 defeat over the Bulldogs. Saginaw Valley went on to capture the final game of the series 12-5.
Midway through the season the Bulldogs are 13-15 overall and 10-6 in the Great Lakes Intercollegiate Athletic Conference.
"We have been working on pitch selection and putting our offense and defense together. Things are shaping up for us but we still have a lot of games left that we are ready for," said Bowler.
Ferris now has a six-game homestand. The Bulldogs will start their first home series April 15-17. Doubleheaders against Findlay, Tiffin, and Wayne State will take place, respectively. n