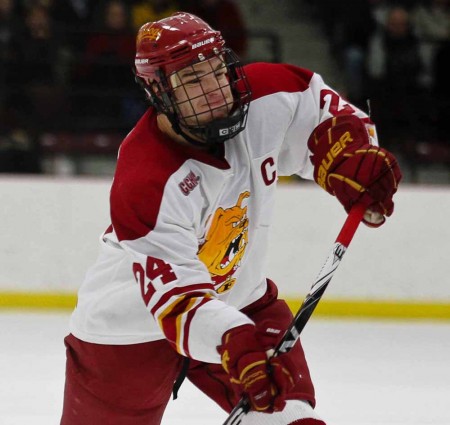 While the season may be over for the Bulldog hockey team, the number of players signing with professional teams keeps on growing as senior captain Zach Redmond has signed with the Atlanta Thrashers of the NHL.
Redmond, who was drafted by Atlanta in 2008 in the seventh round (184th overall) of the NHL Entry Draft, recently began playing for the Thrasher's top affiliate, the Chicago Wolves of the American Hockey League (AHL), after inking with Atlanta on April 5.
"I don't think it's really going to set in until after I graduate," said Redmond about his jump to the professional level. "I've already played three games in Chicago and it comes at you fast. But it's all been worth it."
The signing marks the fourth Bulldog to sign with a professional team this offseason, as fellow seniors Pat Nagle, Mike Embach and Scott Wietecha all having joined the professional ranks after the conclusion of the 2010-11 season.
Redmond said that while he's confident in his offensive game on the professional level, he knows that he'll have to lock in on defense after seeing how NHL players can exploit the smallest hole in a defense.
The jump from the amateur status wasn't the only change for Redmond in the early parts of April, as Redmond and Nagle were named to the 2010-11 American Hockey Coaches Association (AHCA) All-America Teams for Division I. Nagle secured a spot on the first team while Redmond was named to the second team.
"It's a great honor to be named to the team, but I honestly didn't expect it," said Redmond, who missed a chunk of the season with a broken leg. "I missed a lot of time and wasn't out there like I wanted to be, but the coaches felt I deserved it and it's an honor, although a surprising one."
After four seasons at Ferris, Redmond concludes his Ferris career having racked up a plethora of awards. Redmond was recently named as a 2010-11 All-CCHA First-Team performer on top of making the second team in 2009-10. The senior captain also claimed CCHA Defenseman of the Week honors on Jan. 10 of this season while also being named to the InsideCollegeHockey.com's First-Half All-CCHA Team this season.
"I met a lot of great people during my time here and I was on a team with a great group of guys and a great coach," said Redmond about what he'll remember about his time at Ferris. "We had a lot of fun."
To view the official press release of Redmond's signing with the Thrashers, check out this website. http://thrashers.nhl.com/club/news.htm?id=558365