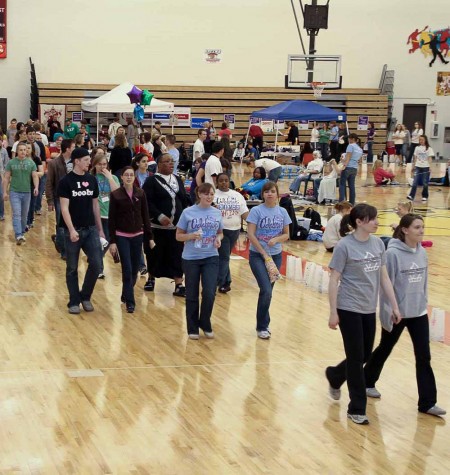 I love when college students do something outside themselves.
Though there's certainly a lot of student organizations getting involved with community services and various causes around campus, I think it's really easy for the life of a college student to essentially be about "me." I include myself in this statement.
Each day we go about our schedules, hang with who we want to hang with, and spend our free time how we want to spend it, for the most part. But upon participating in my first Relay for Life a couple Fridays ago, I saw something different; I saw a selfless community.
If you've never gone to a Relay, I highly recommend you do, even if it's just for fun. There are games, competitions, music, and tons of delicious food to support the fundraising efforts and celebrate accomplishments. But the coolest thing is the effort that students put in to make it happen, and in doing so, the effort they make toward fighting cancer.
Some of the food and event ideas were so creative, such as colored popcorn and a newspaper dress fashion show. Some tough college guys were even willing to cross dress for a pageant to raise money for the cause.
Displays like this give me hope, as insignificant or as silly as they may seem. They give me confidence in students' innovative abilities to impact the world in their own way with their individual knowledge, creativity, and skills. And it reminds me that not every student is solely self-seeking.
What inspires me most is the luminaria service. If you've never attended a ceremony, let me explain. Before the service, students can purchase a white paper bag for $10 and decorate it in honor of a survivor they know or a loved one who has lost the battle to cancer.
At the beginning of the ceremony, a PowerPoint with the names of everyone a luminaria was made for is played. Everyone who bought a luminaria receives a glow stick, and at the end of the PowerPoint, they place the glow stick in the luminaria they purchased. Afterwards, people continued to walk. It's here that you see the greatest remembering and union.
I saw a trio of students walking with arms around each other, consoling and supporting. I observed the smiles of survivors, some Ferris students themselves who've overcome the battle despite the stress of school. I saw triumphant walkers, with eyes of pride for those who have fought. I saw tears of those who had lost, huddled in a tight embrace, and I gripped my boyfriend's hand tightly as I felt my own tears well up for the one who was taken from us.
What I saw was community. I'm not talking about the "bond" that comes with complaining with your classmates about the next big exam or being everyone's friend at a Taco Bell after a wild Friday night. The students at Relay used their Friday for something bigger, and something that was refreshing to see.
It gave my cynical heart something to hope for on this campus, and though I hope I see more displays of this selflessness before next year's Relay, I can't wait until it comes around again. It's really pretty incredible. n