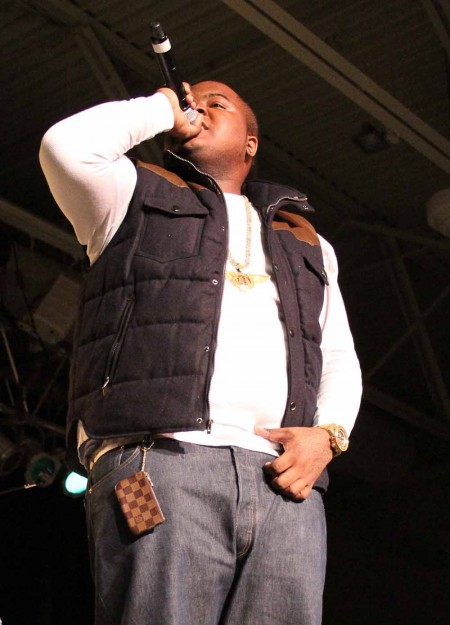 FSU put on its annual Ferris Fest event on April 16, where they played host to big names such as Sean Kingston and Cartel, along with many other acts.
The concert that is considered by most to be the biggest Ferris State University event of the year was moved into Wink Arena this year due to inclement weather. The arena drew in a crowd so large that maximum capacity was reached, and they had to begin turning people away.
"I was not a fan of the fact that Ferris Fest got moved inside," said LaBreonna Bland, senior in the health care administration program. "Every year for the past four years, the weather has been crazy on that particular day. That adds to the fun, in my opinion."
While some were disappointed with the choice to bring the event indoors, others thought it was a great decision.
"I would have preferred the event to be outside, but it was a good call, especially because it seems like Ferris Fest is cursed," said Manpreet Singh, senior in the marketing program. "Every year except for one it has been awful weather since I've been here."
"I liked having the experience of an indoor concert," said sophomore in the English program Amanda Wood. "It was a lot easier to access, although the vendors and activities were a little more difficult to get to."
The crowd was tense during the event, with many people pushing and shoving their way up to the front trying to get closer to the performers. The heat inside the arena probably did not help ease tensions.
"I really enjoyed moving up towards the stage and the fights that took place during my mission up," said Singh.
"I worked my way to the front of the crowd and was instantly drenched in sweat," said Bland. "I was irritated."
"It was kind of cramped, and people kept pushing into me and getting in front of me, which wasn't fun for how short I am, but it's typical at an eventful concert," said Wood.
I was in the front row during the performance and I did see it get tense. Between one girl elbowing another in the back and another one trying to push her way in between two of my friends, I saw some heated words exchanged.
Once the performers hit the stage though, all tensions seemed to be forgotten as the crowd immersed themselves in the show.
Sean Kingston was a decent performer, with a very energetic DJ and an intimidating bouncer standing off to the side of the stage eyeing the crowd with a threatening look. I was only able to attend for Cartel and Kingston, but out of the two, I would have to say that Cartel was my favorite due to their great energy, awesome sound, and originality.
"I would say Sean Kingston and Cartel both did great," said Singh. "I thought Sean Kingston was really entertaining."
Other students weren't so impressed with the headliner though, citing that he didn't really play his own music and that he was not visually captivating.
"Sean Kingston's open collaboration of his songs before he hit the stage was the best part of his set," said Lisa Laurent, freshman in the sports marketing program. "The music played after was not only a disappointment, but also mostly not his. Even though it was free, it wasn't worth staying for."
Laurent did stay for Cartel though, who she thought put on an excellent show.
"I mainly went to see Cartel, being the only band I liked from the list of performers," said Wood. "For the hour that Cartel played, I thought they were awesome and enjoyed their show."
"To be honest, I'm not really a fan of his, but I can tolerate his songs," said Bland of Kingston. "He did very little material of his own and the part where he played other popular songs that weren't his was OK, but we didn't pay for him to play songs that did not belong to him. He could have done a better job by just expanding his set list and performing more of his own songs."
Kingston did at least seem to get the crowd into the party mood. The whole place had its hands in the air and were jumping around like sardines in a tightly packed can.
Kingston even pulled a lucky lady out of the crowd for knowing his birthday and brought her on stage. She got to wear his $100,000 chain for a majority of his performance. Kingston also brought a slew of "beautiful girls" up on stage while he sang.
While Cartel and Kingston were not allowed to be interviewed, Gunnar & The Grizzly Boys were happy to talk about how much they enjoyed performing at Ferris Fest.
This was the band's first arena show, and the space was much larger than what they are used to playing on.
"It was different," said the band. "But we are just happy to be here and the people are great. They came ready to party early."
There was a slight mishap during their performance, though.
"Some fans got hit in the face with drumsticks," the band said laughing. "But we autographed them to make it OK."
Gunnar & The Grizzly Boys added that they definitely hope to be able to play at Ferris again in the future and will be back in Big Rapids to play at The Gate in May.
Despite the setbacks due to weather and some shaky reviews in regards to Kingston's lack of originality, Ferris Fest did seem to go off well overall.
"I do applaud those who put Ferris Fest together," said Bland. "They spend a lot of time and energy on the event to ensure people have a good time, so a big thank you to everyone who had a part in making it happen."
Only time will tell what Ferris Fest 2012 will bring. n