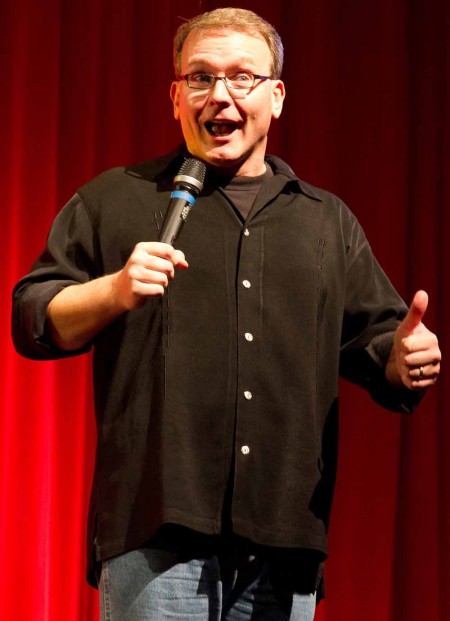 For a guy well beyond the age of 30, Michael Dean Ester sure knows a lot about 21st century university life.
Or, at least, that's the impression the comedian gave during his presentation on April 19 at Williams Auditorium.
As part of Entertainment Unlimited's Five-Star Event series, Michael Dean Ester explained to Ferris State students the ins and outs of college in a humorous and uplifting matter, appropriately titled "The Reason You're Here."
Ester, a stand-up comedian with 19 years experience in the field, does not simply joke around.
Tuesday night was not a matter of "watch some guy tell jokes" as many may have been expecting. Ester was very engaging with the crowd—a large crowd, though not impressive by EU standard—often asking questions and quizzing the audience. To say he was lacking in energy and enthusiasm would be a stone-cold lie.
His message was clear and straightforward—"Do your thing."
"Eighty percent of Americans wish they were in a different line of work," said Ester. "Do what you want."
Himself a former theatre major, Ester expressed how he has "never worked a day" in his life and that wealth is not a matter of money so much as personal happiness.
Although college is mostly composed of classrooms, teachers and homework, everybody knows there is more to this culture than hard work and report cards. Topics such as sex, alcohol, credit cards and campus cops are all familiar sights, and were certainly not neglected by Ester in his monologue.
Ester dug deep, delving into the purposes and experiences of everything "higher education" in the manner of a centuries-old philosopher. He was able to get every person in the room to ask him or herself, "Why am I here?"
For many, he believes, the reason they go to college is to appease their parents.
"But parents," he argued, "don't want you to go to college. They want you to succeed."
Success—keyword.
Convinced for the longest time that success meant income, Ester has since turned a different leaf through the years touring the country and raising a family. He now believes success is measure two ways: Purpose and satisfaction.
"Remember this," he stated. "Don't ever confuse your major with your dream."
Michael Dean Ester was nominated "Comedian of the Year" by the National Association for Campus Activities and "Best Male Performer" by Campus Activities Magazine, according to his website.
For more information, visit Michael's homepage at www.yesihaveawebsite.com. n