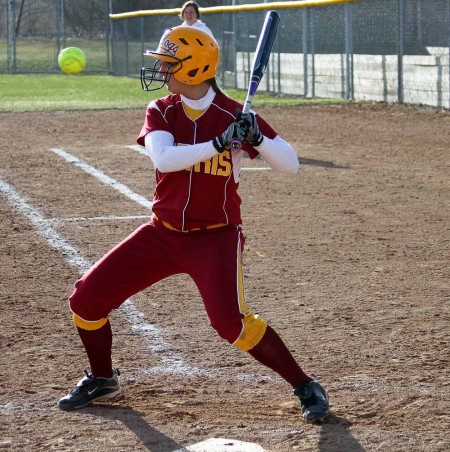 While many students headed home for the holiday weekend, the Bulldog softball team stayed in Big Rapids to host division-rival Grand Valley State.
The Bulldogs were outscored 25-15 in a four-game series that the Lakers dominated, topping Ferris 3-1 in the series.
After an 11-4 drubbing from the Lakers in the first game and a close 6-5 decision for Grand Valley in the second contest, Ferris held off a furious seventh-inning rally to secure a 3-2 victory in the third game. Grand Valley scored two runs on five hits in the bottom of the seventh, but the Bulldogs wrapped up the game when GVSU's Maggie Kerrigan was gunned down at the plate trying to score the tying run after Katie Martin put the ball in play.
The Bulldogs had a chance to earn a series split in the nightcap of the April 23 double-header, but an 11th inning RBI single from Laker Kayleigh Bertram gave the Lakers a 3-2 victory. Three of the four games in the series were determined by a single run.
Junior third baseman Makenzi Peterson tallied five hits in the weekend series for the Bulldogs, driving in two runs. After going hitless in the first two contests of the series, sophomore first baseman Lindsey Pettit notched three hits and RBIs respectively in the final two games.
Sophomore pitcher Dana Bowler went 1-2 on the weekend with two starting appearances and a relief appearance in the final game of the series. Bowler allowed 23 hits in the series along with 14 runs in her three pitching efforts.
Grand Valley improved to 35-8 overall and 21-5 in GLIAC conference play after the weekend, improving its first-place lead in the GLIAC North. Ferris dropped to 16-20 overall while slipping to 13-11 in the conference.
The Bulldogs were scheduled to face off against Northwood on April 20 prior to the Grand Valley series, but the series was rescheduled due to poor weather. The series is rescheduled for a double-header on April 26 at the FSU Varsity Softball Field. As the series will be done after deadline, check fsutorch.com for results.
Ferris will finish the season on the road as the Bulldogs face off against Hillsdale in a four-game series on April 29-30 before ending regular-season play with a two-game series at Wayne State.
The Bulldogs will hope to improve their position in the conference as post-season play will commence on May 6-8 as the GLIAC Tournament will get underway.