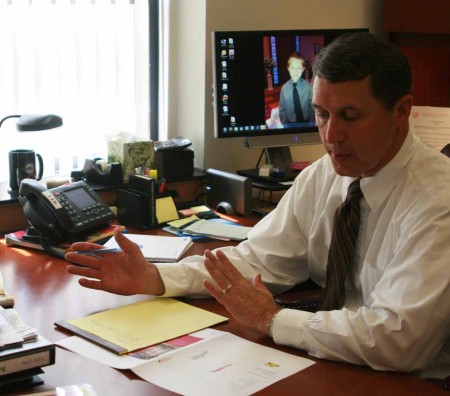 If you're staying in Big Rapids for the summer, one person you're sure to see hard at work around campus is Athletic Director Perk Weisenburger.
With his first year at the helm for the Bulldog athletic department under his belt, Weisenburger is pleased with the program's success thus far and hopes to build upon it in the future.
"What I find refreshing and enjoy the most is the desire for success that is exhibited by the people associated with Ferris State University as well as those connected directly with our athletic programs," he said. "We want to compete, be successful and obtain excellence at the highest level of intercollegiate play."
According to Weisenburger, several factors went into consideration while making the decision to accept the athletic director position at FSU.
"First was the opportunity to be in a leadership position with the ability to positively impact the collegiate experience of student-athletes at Ferris State," he said. "Second, the commitment of the administrative leadership at Ferris State and the partnering opportunities with other community and university entities in further developing Bulldog athletics into a top athletic program in the NCAA Division II ranks."
Weisenburger believed FSU would be a "good fit" for his family. Since he and his wife are both originally from Michigan, the opportunity to be closer to family and raise their sons here solidified his decision.
Prior to coming to FSU, Weisenburger worked in athletic departments for schools such as Illinois State University, Wake Forest University, Central Michigan University, University of Washington and University of Houston. His most recent position was at the University of Las Vegas.
A former student-athlete, Weisenburger played baseball for Central Michigan University. While a Chippewa, he earned his bachelor's degree in business administration. Later, Weisenburger received a master's degree in sports administration from Ohio University.
As athletic director, Weisenburger's goal is to provide student-athletes with the opportunity "to experience a championship run as well as the thrill and memories of participating in an NCAA Tournament in their respective sport."
Associate Athletic Director Jon Coles is confident that Weisenburger will bring success to the FSU athletic program.
"Perk [Weisenburger] is an innovative, creative thinker who will bring positive change to the department and the institution," Coles said. "His implementation of Division I ideas will put us in the forefront of the league when it comes to the marketing of our programs."
Weisenburger looks to accomplish his goals "with tremendous integrity, fiscal responsibility and with the support and pride of Bulldogs everywhere."
During his first year at FSU, Weisenburger enjoyed a montage of exciting moments in Bulldog athletics. His favorite came in January at the U.S. 131 Showdown when the men's basketball team defeated Grand Valley State University in overtime before a crowd of 6,100 fans.
Weisenburger's favorite moments "outside of the competitive arena" included commencement, the alumni reunion hosted to celebrate men's basketball program's 1000th victory and individual athletes receiving All-American or all-academic honors.
"My favorite moments are anytime one of our current or former student-athletes is recognized for their effort and commitment to Bulldog athletics," he said.
Bulldog fans and athletes can look forward to more thrilling sports moments as Weisenburger strives to meet his goals. However, winning games is not the only way this athletic director defines success.
"Obtaining excellence in athletics has just as much or more to do with the development of young people in their lifelong role as contributing citizens in our communities as it does coming out ahead on the scoreboard," Weisenburger said. "The two go hand-in-hand and that is what makes Ferris State a special place." n