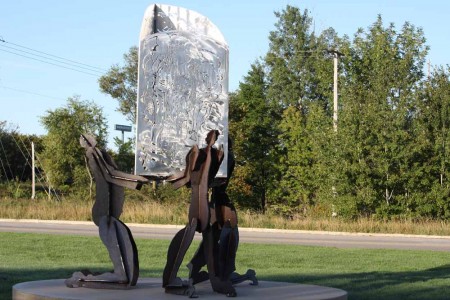 Welding and engineering students and professors are at it again, and this time, they are pushing the borders.
Currently, Professor Robert Barnum and his team are working on the "Riverwalk Project," the next sculpture to be installed in Hemlock Park on the bridge on the west side of the river, located behind Big Rapids Middle School. Supported by Jack and Susan Bartdorff, this piece is just another example of how Ferris has been giving back to the community and enriching the city.
"We're a small university. And think about the state right now and its priorities; education is taking a beating. We're an example of a program giving back to the community. I can see this as an example to the governors. It's [resources] not always going out the door. Sometimes it goes back and forth. It's a great example of when universities do a lot more with their money than the public assumes," said Barnum.
Brandon Boyer, junior in welding and engineering technology, assisted with the computer design of the project, as well as much of the fabrication. Involved in the installation of three of Barnum's projects such as the Isabella Bank piece, Boyer hopes to stay involved in this type of work as the possibilities of expansion become a reality.
"I am a firm believer in supporting the arts, especially public works. The pieces we build are beautiful, economical, very low maintenance, and will most likely outlast anybody reading this paper. Spreading this type of artwork across Michigan really shows that Ferris is a place where engineering and art can collide to produce something magical," said Boyer.
Big Rapids can't keep the creative collaboration of Barnum and students all for itself. Barnum and his crew have already done a project in Montague and are always looking for opportunities.
"We're comfortable traveling anywhere in the state. It's a concept that doesn't really have a limit. We have two priorities: one is to change the way we teach, and the other thing is to leave a mark in the community and have students be a part of it," said Barnum.
Boyer gave much of the visionary credit to Barnum, stressing his dedication to the creations and the creative process.
"It truly is a pleasure to work with Professor Barnum. The primary visions for the pieces come directly from him, as well as early sketches and designs. We assist by rendering the designs in a computer and then fabricating them," said Boyer.
But the student involvement is what really speaks volumes about how Barnum is attempting to revolutionize learning.
"You have kids that scatter when they leave here, and who knows where they will live. These pieces become part of who they are," said Barnum.
Boyer not only helped Barnum with various pieces, but also was a lab aid in his 3-D design class, where he taught metalwork and welding basics. Both of these components taught him intense responsibility, patience, and respect for the arts. He felt that it's not only the finished projects that students carry with them, but also the process, its impact in their lives, and values to their goals and future.
"One factor is the scale. Most of the projects we do in the welding program do not go over a few hundred dollars; in these projects, we are working with thousands in materials, which is an experience you just can't receive in the classroom. In class if you make a mistake, it generally only comes back on you. With the sculptures, mistakes I make could turn into issues for others, just like in the workplace. There's also the difficulty. In a classroom you're given basic criteria for something; you build it as efficiently and as quickly as possible. It's quick and simple. With the sculptures, I get a sketch and a few dimensions and we need to figure out how to build it," said Boyer.
Whether right at home in Big Rapids or across the state, the common goal is to give back, change ways of thinking and learning, and create something extraordinary.
"People have lost their appreciation for fine craftsmanship and design. When you labor on a project day and night, you inject part of who you are into that project. That makes you appreciate every detail of the world around you," said Boyer.