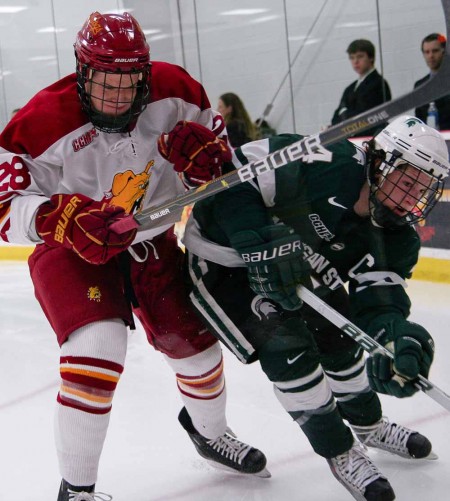 So long, CCHA! Ferris State University has accepted an invitation to join the WCHA (Western Collegiate Hockey Association) beginning in the 2013-2014 season.
Due to the creation of the new Big Ten hockey conference, which took University of Michigan, Michigan State University, University of Wisconsin, Ohio State University and University of Minnesota from the WCHA and the CCHA (Central Collegiate Hockey Association,) the WCHA extended invitations to the University of Alaska-Fairbanks, Bowling Green State University, Lake Superior State University, Western Michigan University and FSU to join the WCHA.
"Through the vision, leadership and cooperative spirit of the institutions in these two tradition-rich conferences there is a renewed sense of stability, excitement and a new direction for hockey programs in both the CCHA and WCHA," Ferris State University Athletic Director Perk Weisenburger said.
The new and bulked up WCHA is poised to be one of college hockey's power house conferences, and FSU could be one of the conference's power house teams. Out of the teams proposed to be in the new WCHA, Western Michigan University is the only team to have achieved a better record last season.
"We look toward the future and to bringing together the teams from the WCHA and the CCHA, I see this new conference being highly competitive," FSU hockey's head coach Bob Daniels said.
These five teams are the newest additions to the WCHA since University of Nebraska at Omaha and Bemidji State University joined in 2010 thus creating an even twelve team conference.
The Bulldogs are not intimated by the conference change.
"One of the biggest differences between the WCHA and the CCHA, is not the talent level, because they've had as many teams in the Frozen Four as we have, but it's where the kids are from and their type of play," senior FSU defenseman Tommy Hill said.
FSU now has a new road to travel in the pursuit of glory as they face different teams in a new conference.