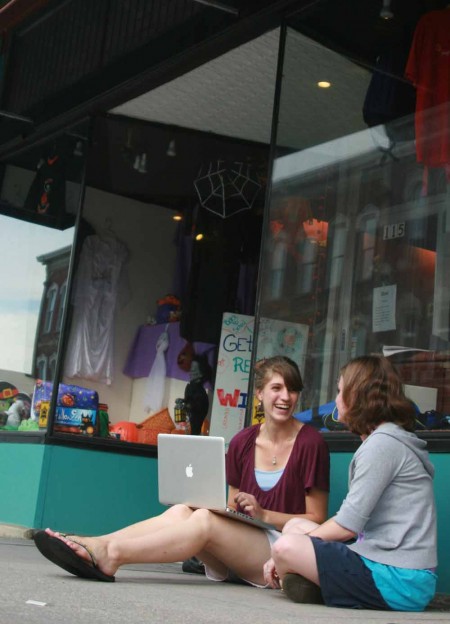 Every nine seconds in the U.S. a woman is assaulted or beaten. An estimated 1.3 million women are victims of physical assault by an intimate partner each year.
WISE stands for "Women's Information Service Inc.," a domestic violence and adult sexual assault service program.
The organization serves Mecosta, Osceola, and Newaygo counties. WISE Shopper is a local nonprofit store in downtown Big Rapids that gives what profit they earn from sales to WISE, a local women's shelter. WISE provides safety, support, and advocacy services to victims of domestic violence and sexual assault.
In the past six months WISE has helped 42 families. "I hope it's as empowering for them as it is for us. We hope that we have made a difference for them and their children," said manager Celena Rosset.
WISE's services are available to adult victims of sexual assault and to any person who is in need of protection or assistance due to actual or threatened assault by a spouse, former spouse, boyfriend or girlfriend. By receiving donations from the community and people not local to the Big Rapids area, they are able to transition those in need by providing them with necessities needed to move out of the shelter and into their new lives.
WISE started when it was realized there were not many places available for clients starting their life over. WISE has been around for about 12 years, and has changed its location a few times due to a struggle in increase of rent.
"It's always so important to have volunteers and donations for the store," said Executive Director Kelley Samuels. "We often times struggle with the high rent payment and any help we can get is always appreciated."
The store contains items from clothing to mattresses, stoves, household items, toiletry, appliances and much more. The goals of WISE are to help women value themselves and to provide a safe, supportive and empathetic atmosphere in which a woman can become empowered to make her own choices to promote community awareness and concern for the problems of domestic violence and sexual assault.
WISE also offers some community education programs including public awareness programs and training for interested groups.
"We hope to get our name out there," said Rosset. "We want it to be as familiar as Wal-Mart, K-Mart and even JCPenny's."
Rosset not only got involved from having a business building background, but has also been able to relate to these clients through her own personal experience. Rosset was a victim of an eight-year bad marriage in which she suffered emotional and physical abuse.
"If I would have had this kind of support and outreach in my past it would have made me a lot stronger and possibly not go back," said Rosset.
The clients involved are given a voucher when coming out of the shelter or a wish list that provides them with things such as clothing, furniture, or anything needed to start their lives over in a new home or add to what they may have had before.
"We often times give away stuff to the families," said Rosset. "By giving a family or someone something a little extra, it feels good." A worker from the shelter often sends over a wish list of things that a person or family needs and Rosset and others will often help gather those necessities by donations.
"As donations and volunteers go down, that is when clients suffer," said Samuels. "There are always plenty of opportunities for creative design in the front window, to even organizing the store or going through boxes."
The WISE Shopper is in desperate need of volunteers. They need the skills of marketing students, business majors, artsy people and much more.
WISE facilities' empowerment of victims and survivors as individuals through awareness and prevention activities works toward the equality of all persons.
"Our goal is that our sales exceed the cost," said Samuels. "We want to make the rest of the community aware of what we stand for; everyone is invited to help." For more information on getting involved and helping with donations or volunteer work, call 307-0001.