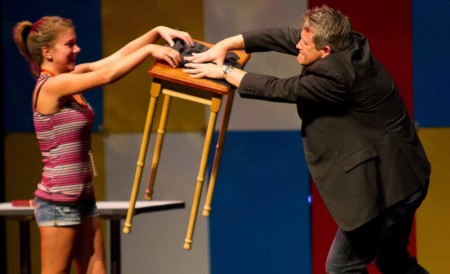 The auditorium was silent as everyone waited to see what he would say.
"Photographer." The student's eyes widened with disbelief. Craig Karges had just read his mind.
Moments later, with the help of randomly selected members of the audience, Karges made a table levitate, moved a block of wood with his mind, and wrote on a chalkboard without touching it.
Entertainment Unlimited kicked off its event schedule with the "Experience the Extraordinary" show by the bestselling author and Top 5 Speaker, Karges.
The mentalist has performed in over 150 cities worldwide and CNN has named him the "king of college campus entertainment." Those who witnessed the Sept. 1 show were impressed.
"I was speechless," said Krystle Karnofsky, a junior in the music industry management program.
"Absolutely mesmerizing," remarked Kate Schwartz, a senior in the business administration program.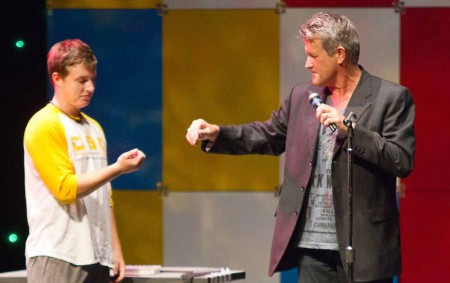 Students and community members started lining up outside Williams Auditorium over an hour before the show was to begin. Some people were skeptical while others had high hopes.
"I expect to have my mind blown," said Jessica Femminineo, a junior in the hotel and restaurant management program. The show lived up to her expectations, as a wide-eyed Femminineo stared mesmerized in jaw dropped disbelief.
An Entertainment Unlimited member reported an estimate of 1100 people in attendance. The next Entertainment Unlimited event is scheduled for
Sept. 15.