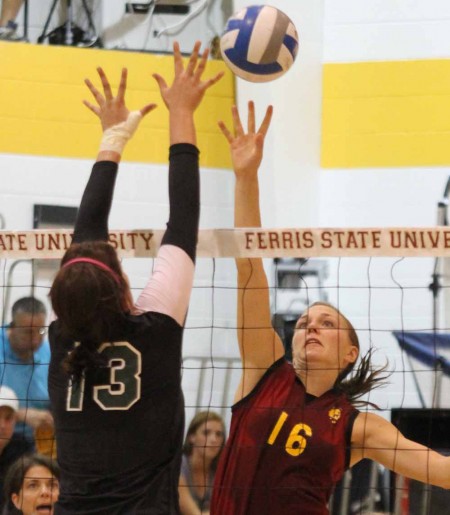 The Ferris State University women's volleyball team nearly shutout every team they faced this past weekend.
FSU is now 4-0 to start the season after hosting the Ferris State Invitational Sept. 2 and 3. The team only dropped a single set in 13 sets over Labor Day Weekend.
The Bulldogs swept three schools in the tournament. Drury (Mo.), Southern Indiana, and California (Pa.) all fell to FSU by a 3-0 decision. The only opponent to challenge the Bulldogs' defense was Wisconsin-Parkside, though FSU still defeated them 3-1.
"We wanted to play consistent with high energy and of course, beat every team we play," senior libero Lisa Tobiczyk. "It's always a goal of ours to defend our home court and we were really able to put it together to do that this weekend."
According to Tobiczyk, the addition of assistant coach Jesse Ortiz has made the Bulldogs more of a defensive team. Ortiz served four seasons as the top women's volleyball assistant coach at Sonoma State University in Rohnert Park, Calif.
"We really like Jesse. He is defensive-minded and has brought a lot of fresh ideas to our program," said Tobiczyk. "We are already starting to see the benefits of what he is teaching us and we're thankful to have him."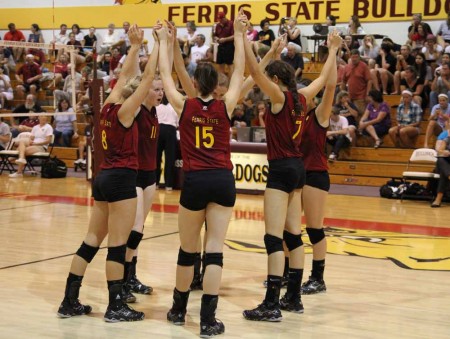 The addition of freshman middle hitter, Courtney Rehm, has led to some instant defense on the court which was much needed after the graduation of Arielle Goodson who ranked sixth in the program's history with 81 total solo blocks.
"Replacing an All-American is not something a team tries to do," FSU coach Tia Brandel-Wilhelm said. "Each season, the team is new and the team must create it's own identity based on the players strengths."
Rehm's defensive efforts were highlighted by her game against Drury where she recorded six block assists. Her play against California also displayed her defensive dominance when she earned five block assists and two solo blocks.
"The freshmen are an awesome fit with the team," Tobiczyk said. "They each bring a little something different to the table and we expect big things out of them."
This year head coach Brandel-Wilhelm will be relying on upperclassmen captains Ashley Huntey, Aly Brecht, Samantha Fordyce and Tobiczyk to lead the team.
Brandel-Wilhelm is in her 16th season at FSU. She has compiled an overall record of 310-160, and is 21 victories away from becoming the program's all-time winningest coach.
The Bulldogs will begin conference play Sept. 9 on the road against Michigan Tech. The match is set to begin at 7 p.m. in Houghton, Mich. n