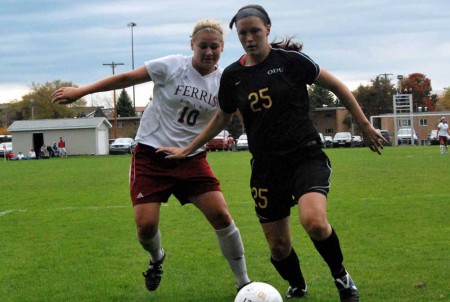 The Ferris State University women's soccer team kicked off the 2011 campaign with a similar start to the season as last year's opener.
FSU traveled to Indianapolis, Ind., Friday to challenge the Indianapolis Greyhounds. The Bulldogs suffered a 1-0 loss. Sophomore goalie Rachel McCollum stayed in net for the entire 90 minutes and made two saves for FSU.
"I think we played well against Indianapolis, it was a hard fought match," FSU head coach Matt Kellogg said. "A couple mental mistakes cost us and Indianapolis is a definitely a strong team that were able to take advantage of those mistakes."
The University of Indianapolis outshot FSU 12-5 and held a 4-1 advantage in corner kick opportunities.
FSU remained in Indianapolis for the weekend to face Drury (Mo.) on Sunday and were handed their second loss of the road trip.
The Panthers got three goals past Bulldog goalies in the first half of regulation. In an attempted come back, FSU scored 1:42 into the second half of regulation. Senior forward Bri Borgman scored on a penalty kick as the Bulldogs recorded their first goal of the 2011 season. Ultimately, FSU lost the match 4-1.
"At the end of the first half we talked about our willingness to fight and battle for the small things in the match and in the second half we did that right away," Kellogg said.
Kellogg was thoroughly impressed with his team's second half performance and attitude on the field against Drury.
"I was happy that the girls kept fighting," he said. "I felt like we won the second half."
Overall, Drury outshot the Bulldogs 13-9 and held a 6-3 advantage over FSU in corner kick chances.
McCollum made two saves and played the first half for the Bulldogs before Kellogg put in freshman Jessica Wineke who made one save in the final 45 minutes.
FSU is now 0-2 to begin the season. According to Kellogg, the Bulldogs are going to work hard this week on getting focused and concentrate on the smaller details to prepare for conference play.
FSU has been pegged to finish third in the North Division of the Great Lakes Intercollegiate Athletic Conference, and Kellogg said that's where the Bulldogs would like to finish.
"It may seem like a lofty goal because of the past few years of the program's history, but we have a lot of confidence in ourselves," he said.
FSU begins a five-game home stretch starting Sept. 9 against Saginaw Valley State University at 4 p.m. SVSU is currently 1-0. The game signifies the beginning of conference play for the Bulldogs.