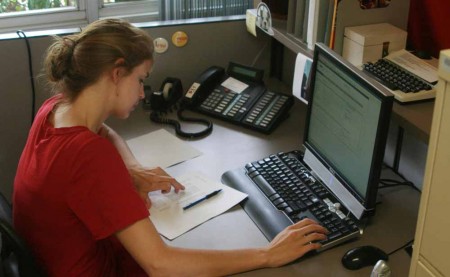 Many changes have taken place within the residence halls since last spring. From the removal of room telephones to the different location of the housing office, Director of Housing Dr. Jon Shaffer believes all of these changes are positive for the university.
Each year, students who live in the residence halls are surveyed about their location living satisfaction. The Office of Housing looks at the data collected to better satisfy students living in the halls.
"On the surveys, we have asked about room telephone use for the last five or six years, and what we found is that less than five percent [of students] use that landline in their room. Out of that small percent, less than half of them were using the voicemail. It's just a service that we have grown beyond," Shaffer said. "Instead of the room phones, we now have courtesy phones in the hallways. These phones are provided to ensure there is always a backup plan and some way to contact someone in an emergency."
With that, a number of students have noticed the absence of the phones in their rooms.
"I never really used my room phone before, so I don't mind that they are no longer in the rooms. When everyone has a cell phone, there is really no need for them. It's just another thing to worry about breaking," said Mike Ross, senior in construction management.
Although many students may feel satisfied there are no longer phones to worry about, others are finding it worrisome.
"If there are problems with your cellular device or need other means of communication, then it is limited now that the phones are not in rooms," said Ashleigh Beemer, a criminal justice sophomore.
According to Shaffer, another reason phones have been removed from the residence hallrooms is because of the location change of Telecommunication Services.
The Telecommunication Services Office was previously located in the basement of Masselink Hall. However, due to the closing of Masselink and Carlisle Halls, this service can now be found in the Rankin Center. It has moved into the space that was once the office of Residence Life and Judicial Services.
"When the decision came to move Telecom over to the Rankin Center, it made sense just to abandon those phone lines as opposed to moving all 2500 lines over there. It's a combination of things that made this the right time to make the decision [to remove room phones]," Shaffer said.
The Office of Housing and Residence Life can now be found on the first floor of Helen Ferris Hall.