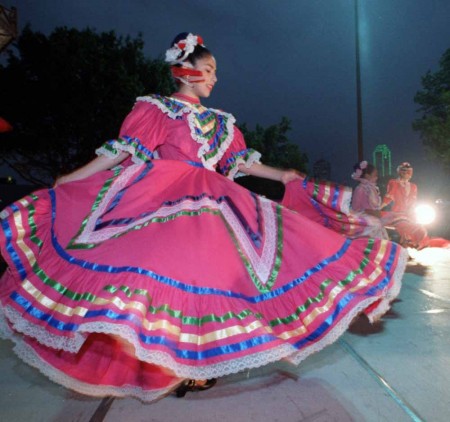 The month-long celebration will kick off on Sept. 15, the anniversary of five Latin American countries' Independence Day—Costa Rica, El Salvador, Guatemala, Honduras and Nicaragua.
"Hispanic Heritage Month is an opportunity for individuals from all backgrounds to learn, participate and celebrate the culture," said Michael Wade, assistant director of the Office of Multicultural Student Services. "Our university supports Hispanic Heritage Month because it is an excellent platform for student learning."
"We celebrate this event at Ferris because we have a reasonable number of Hispanic students, and we believe that it is very important to celebrate all cultures that have contributed and are a very important part of what this country is," said Ana Davila-Howard, associate professor of Spanish. "We all learn from each other, and through this type of event we try to embrace, respect, and understand those differences. I am from Puerto Rico, married to a Caucasian, and we have a son, Michael, who has been born and raised in this country."
The first event of the celebratory month will be a panel discussion on the topic "Hispanics Role in Michigan's Rebirth" co-sponsored by the Political Engagement Project at 11 a.m. on Sept. 15 in IRC 120. On Sept. 17, Arts and Lectures will present Ballet Folklorico Mexico; the first 200 students to attend will receive free admission – tickets are $3 for all other students.
"We have many students who come from different backgrounds and learning about other cultures will help us understand our fellow students," said Coordinator of the Music Area and Chair of the Arts and Lectures Committee Cate Arroe.
The celebration will continue with Latin dance lessons, arts and crafts, and authentic Hispanic foods on Sept. 21 from 7 to 9 p.m. in the Rankin Student Center Dome Room. The nationally-acclaimed spoken word artist Michael Reyes will present his piece entitled "Multiculturalism as a Culture" on Sept. 29 from 7 to 9 p.m. in Quiznos.
In addition, the Rock Cafe will be featuring authentic dishes for lunch on Sept. 15 and for dinner on Sept. 29. Regular dining center charges apply for all Hispanic Heritage Month Celebration meals, but the other events are free and open to the public.
Wade and the staff at the OMSS work toward helping students become more aware of other cultures.
"I feel that the more an individual learns about diversity in the classroom, workforce and society, the more they will be able to succeed," said Wade. "Every day is an opportunity for one to broaden their understanding and acceptance of diversity. Diversity includes every person, and that perspective is essential for growth and participation at events such as Hispanic Heritage Month."
"We here at Ferris, as professors, try to promote tolerance, acceptance, and respect for all cultures, and the classroom is not the only place to do it; we have to extend it to outside the classroom setting," said Davila-Howard.
For more information about Hispanic Heritage Month, contact Wade at michaelwade@nullferris.edu or ext. 2617.