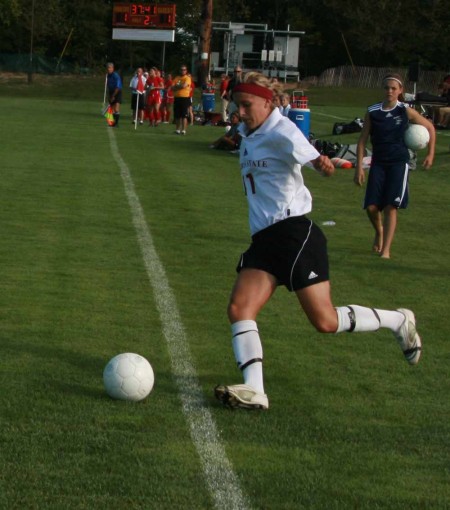 Between Friday's exciting win and Sunday's frustrating loss, the Ferris State University women's soccer team experienced a roller coaster ride of emotions.
Coming off a difficult 0-2 start to the season, the Bulldogs came ready to play Friday afternoon as they earned their first victory of the season. FSU defeated the visiting Saginaw Valley State University Cardinals 3-1 in the emotional win.
"The team was focused all week long in practice," senior defender Mekyla Spraggins said. "During the game, we executed well and got a needed win."
Leading the Bulldogs was senior forward Bri Borgman. She registered two goals in the home opener.
With four seconds left in the game, freshman midfielder Stephanie Garland scored on a pass from Borgman, clinching the game for FSU.
According to Garland, her first goal as a Bulldog felt "incredible."
On Sunday, FSU hosted Northwood University. In a frustrating 3-1 loss, the Timberwolves ended FSU's win streak at one game.
FSU started off strong as sophomore forward Courtney Meharg put one past the Timberwolves goalie in the 38th minute to give FSU a one goal advantage. However, the lead did not last long.
With a minute to go in the first half, NU's Amanda Watson snuck one by sophomore goaltender Rachel McCollum to even the score.
The score remained tied at 1-1 well into the second half until the Timberwolves scored with 15 minutes remaining.
Despite Bulldog efforts, the Timberwolves won the game 3-1 after scoring another goal late in the game.
Although the Bulldogs outshot NU by four, FSU couldn't find the equalizer.
"We didn't execute," Spraggins said. "We played alright, we just didn't execute when we needed to."
The Bulldogs are now 1-3 overall and 1-1 in GLIAC play.
FSU will take the field again Wednesday as the Bulldogs host Madonna University in a non-conference matchup.
The team will return to the conference slate with weekend games against Northern Michigan University and Michigan Tech University.