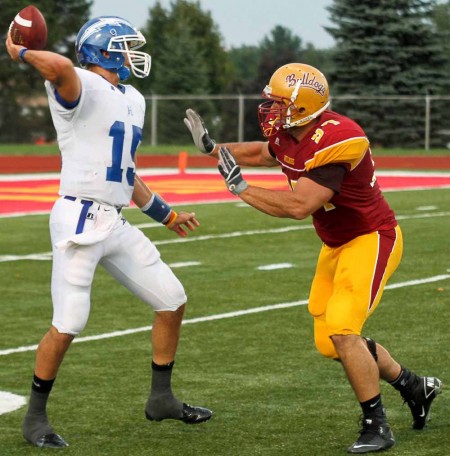 For the second week in a row, the Bulldogs' outcome was decided by three points. Unlike last week's victory against nationally-ranked Hillsdale College, FSU came out on the losing side.
The Ferris State University football team endured its first defeat of the season as it fell to Saginaw Valley State University 30-27 Saturday night at SVSU's newly renovated Harvey Randall Wickes Memorial Stadium.
"This week we had some trouble stopping them on defense," junior defensive lineman Jordan Morgan said. "As a defense, we don't want to give up 30 points in a game."
With 4:25 left in the game, SVSU's sophomore quarterback Jonathon Jennings connected with sophomore wide receiver Mark Thrash for the game-winning touchdown. The 10-yard TD pass capped a 55 yard drive in 10 plays by the Cardinals.
With just over three minutes to play, the Bulldogs elected to punt after being held to three downs. After holding the Cardinals to three downs, it appeared FSU would regain possession of the ball in the final minute. That was until SVSU's fourth down punt hit a Bulldog player downfield on the return. Following a lengthy discussion, the official ruled the Cardinals had recovered the ball, thus preserving the win.
"We have a good team," Morgan said. "We showed that week one. We just can't let the other team get rolling."
SVSU's defense held FSU to 124 rushing yards. Junior running back Skyler Stoker recorded a team-high 49 yards on 17 carries. Stoker scored a touchdown on a one-yard plunge with 9:51 left in the fourth quarter to give the Bulldogs a 27-24 advantage.
"We started to turn it around," Morgan said. "But it didn't really come together for us."
Senior quarterback Tom Schneider paced the team as he completed 28-of-34 passes for 315 yards and two touchdowns.
FSU finished with 439 yards of total offense compared to the Cardinals' 484 total yards.
Stoker caught a team-high seven passes for 105 yards. Senior receiver Mike Ryan made five catches for 63 yards while junior Dwayne Williams added five receptions for 28 yards and a touchdown.
On the defensive side, junior linebacker Tayo Moss anchored the Bulldogs with a team-best 11 tackles. Junior defensive back Jamie Berrera contributed 10 tackles and an interception. In addition, junior linebacker Alex Brajak had nine tackles, seven of which were solo stops.
According to Morgan, the team will focus on being prepared to "go hard every single down"as they work towards next week's game.
FSU will return home Saturday as they host Ohio Dominican University for the first time ever on Sept. 17. With the loss, the Bulldogs fell to 1-1 on the season and 0-1 in league play. The Panthers are undefeated with victories over St. Joseph's College (Ind.) and Northwood University. "Agriculture Day" kickoff is set for 7 p.m.
"Coming off a tough loss, we're looking to show that we're contenders," Morgan said. "We don't want Ohio Dominican to have any success."