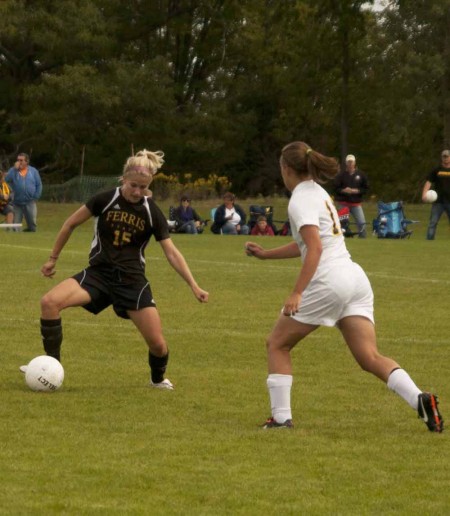 Locking up the second place position in the Great Lakes Intercollegiate Athletic Conference North Division this early in the season was a goal for FSU head coach Matt Kellogg. Now, all the Bulldogs have to do is stay there.
FSU earned its second GLIAC win of the season after defeating Michigan Tech University 3-1 Sept. 18 to move up in the GLIAC rankings.
"It felt really good to get our second win of the season," senior defender Mekyla Spraggins said.
The Bulldogs tallied a pair of goals against the Huskies in the first half, scored by senior forward Bri Borgman and freshman midfielder Leanne Boehm. The goal by Boehm is the first of her collegiate career.
"We were focused against Michigan Tech," Spraggins said. "We finished our chances which is really important and we finished them early."
Borgman tapped in her second goal of the game off a pass by freshman forward Sam Kay to give the Bulldogs a 3-0 lead.
The win puts the Bulldogs at 2-1-1 in the GLIAC North Division and 2-4-1 overall.
"This year the team has really good chemistry, and we are all excited for this current season," Spraggins said. "We are confident that we can be a leader in the GLIAC, and aim to improve on last year's record this fall."
Two days before the Michigan Tech game (Sept. 16), the Bulldogs played 110 minutes against Northern Michigan University only to finish in a 0-0 double overtime tie.
FSU and NMU have a history of playing games past regulation. Just last year, the teams played to 1-1 and 0-0 double overtime games.
"We have a pretty good history for being even matched teams, so we knew we had to come out strong and we of course wanted to win, but as a team we were pretty satisfied by just the effort we gave," Spraggins said. "They always come out bringing their best against us. It was definitely a battle with them."
A month long road schedule is now looming before the Bulldogs. FSU won't see their home field until Oct. 21 when they host University of Findlay.
To begin their road trip, FSU will play at Ashland University in Ashland, Ohio, Sept. 23 at 7 p.m. The Bulldogs will remain in Ohio to face Lake Erie College Sept. 25 at 12 p.m.