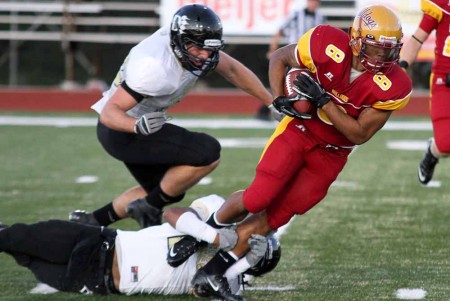 Ohio Dominican University's first-ever visit to Top Taggert Field was hardly a welcoming one as the Bulldogs handed the Panthers their first loss of the season in a resounding 35-13 FSU victory Saturday night.
"I thought it was a good step in the right direction," FSU head football coach Jeff Pierce said. "It really challenged our guys to make sure they came out and played 60 minutes of football."
The Ferris State University football team was led by the foot of freshman kicker Victor Bodrie. In his collegiate debut, Bodrie connected on a school-record tying five field goals.
"I wish our offense would have put it in [the end zone] more," Bodrie said. "But I'm not going to complain because I got five field goals. I'm happy to have gotten the start today."
With 13:16 left in the first half, he registered his first field goal as he kicked from 25 yards out to cap a 10 play, 80 yard FSU scoring drive.
"Once I made the first one [field goal], I was like 'I've got to do that again.' It just flowed," said Bodrie.
The Bulldogs asserted their dominance early as they created an ODU fumble on the game's opening kickoff but were unable to take advantage as senior quarterback Tom Schneider's pass was picked off in the end zone.
However, the Panthers fumbled again the following play, and this time FSU capitalized on the opportunity.
With 10:54 left in the first quarter, the Bulldogs (after moving 42 yards on six plays) seized a 6-0 lead on junior running back Skyler Stoker's 18-yard touchdown run.
Stoker recorded his second-straight 100-plus yard rushing performance in a home contest with 120 yards on 22 carries.
"Our [offensive] tempo just runs teams into the ground," Stoker said. "It's hard to keep up with."
In only three quarters of action, Schneider threw for 306 yards as he completed 22-of-35 passes. He garnered the Babb Ford Player of the Game honor for his performance.
Sophomore tight end Jace Heneveld caught six passes for 76 yards. Senior receiver Damien Miller had five catches for 50 yards, and senior receiver Mike Ryan grabbed four passes for 54 yards.
"They've done a really good job of getting in my vision and getting open," Schneider said.
As a whole, the FSU offense displayed 617 total yards on 90 plays before 2,513 "Agriculture Day" spectators. Nine different FSU players caught a pass in the game, and nine Bulldogs had at least one carry.
The Bulldog defense generated two turnovers, three quarterback sacks and four tackles for loss as the Panthers were forced to punt six times and were only 2-of-9 on third down conversions.
For the third consecutive game, junior linebacker Tayo Moss led FSU with 12 tackles.
"We took advantage of just about every phase of the game," Pierce said. "It was nice to see us capitalizing in the field goal situations, moving the football like we did, and then stopping them."
With the victory, the Bulldogs improved to 2-1 overall and 1-1 in GLIAC play. FSU will travel to Tiffin University next Saturday (Sept. 24) to take on the Dragons in a 1:30 p.m. conference match-up.
"We've got a pretty good football team here," Pierce said. "We've got aspirations to play and to continue to play at the end of the football season."